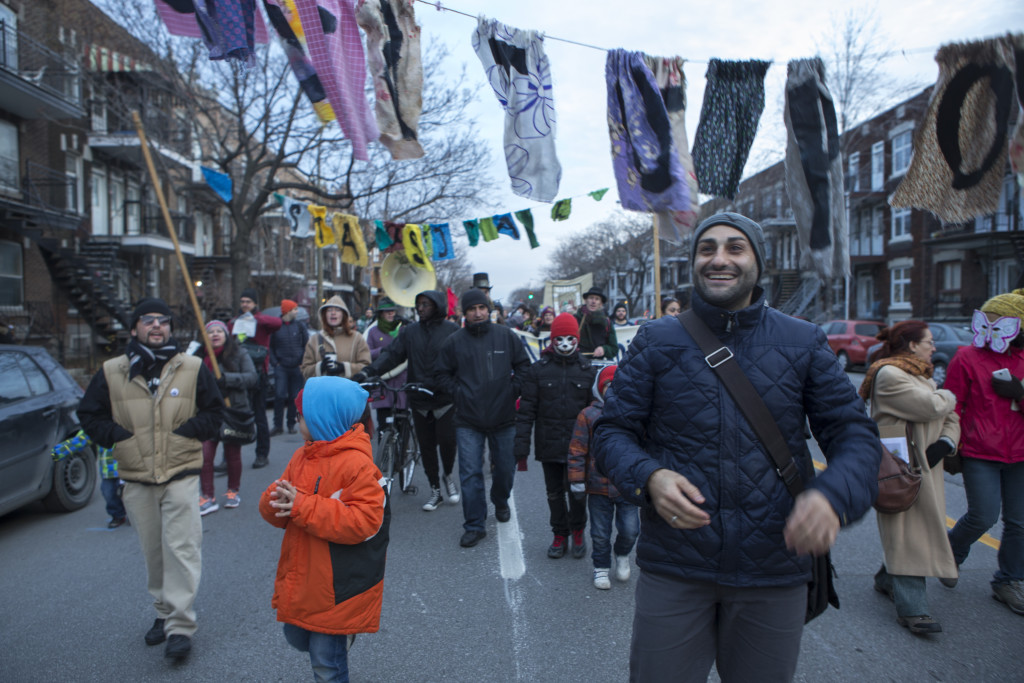 People's History of Montreal: 
Arash Aslani Hunger Strike at Laval Immigration Detention Center, September 2005
This month, September 2016, marks the 11th anniversary of an important and inspiring local action in support of migrant justice. In September 2005, Arash Aslani undertook a hunger strike inside the Laval Immigration Detention Center near Montreal. Arash had been detained for more than 10 months, and facing continued indefinite detention. He had previously been detained in Europe, after fleeing Iran as a political refugee. To try to end his detention, and bring attention to his situation, Arash started a hunger strike that lasted for close to one month before Canada Border Services Agency (CBSA) officials at the prison capitulated and released him. Arash would go on to secure permanent residency and citizenship in Canada.
Solidarity Across Borders first made contact with Arash during his hunger strike, and he would continue to be an active and engaged part of the Solidarity Across Borders network during that time. In the past three years in particular Arash had been a dedicated member of the busy support work committee, working directly with individuals and families facing deportation, detention, double punishment and other forms of precarity, as well as speaking out publicly about migrant justice struggles.
The anniversary of Arash's hunger strike victory is particularly bittersweet because this past August 2016 Arash passed away unexpectedly.
Friends and comrades of Arash, close to the Solidarity Across Borders network, will be gathering soon to commemorate Arash, face-to-face, together. But, in the mean time, on the anniversary of his important direct action in resistance to immigration detention, we share this short text, and the links below, which together provide some background to Arash and his struggle.
If you have any memories or reminiscences about Arash to share, please contact Solidarity Across Borders at solidaritesansfrontieres@gmail.com
—–
-> The photo of Arash above is from the Refugees Welcome / Open The Borders protest along St-Denis street, between Jarry and Jean-Talon last December 2015. Arash was actively involved with Refugees Welcome / Open The Borders efforts last fall.
-> The photo below is at the Laval Detention Center where Solidarity Across Borders organized a No Borders Camp in November 2007, in solidarity with a No Borders Camp at the Mexico-US border.
-> The following audio, from Prison Radio on CKUT, is a preview of the No Borders Camp at Laval, in solidarity with a No Borders Camp at the Mexico-US border, on November 2007, and features Arash Aslani. Arash speaks about the mental torture he suffered in the eleven months that he was imprisoned in the immigration detention centre in Laval.
Show link: www.radio4all.net/index.php/program/25399
Direct audio link: http://emma2.radio4all.net/pub/files/turnthetide@ckut.ca/2201-1-20071108-no-borders-Poya-and-Arash-6nov2007.mp3
-> The following audio is from No One Is Illegal Radio on CKUT, featuring a presentation by Arash during a teach-in organized by by No One Is Illegal Montreal (from August 2006).
Show link: http://www.radio4all.net/index.php/program/21175
Direct audio link: http://emma2.radio4all.net/pub/archive2/07.01.07/jaggisingh@gmail.com/2840-1-20070104-Arash.mp3
-> "We are zombies", article in the McGill Daily (March 2011).
Excerpt: "Aslani described seeing the world through the small window in the back of the van. "When you come out, it's a miracle. It's the most beautiful thing – you see kids, you see colour: red, green, blue. You see old women. You see people, and you start to cry. When am I going to be there?""
Link: www.mcgilldaily.com/2011/03/we-are-zombies
-> "Protesters Visit Laval Immigration Detention Centre to Commemorate Lindsay Strikes", article in The Link (September 2014)
Excerpt: "Arash Aslani, an activist and former detainee, was held in the Laval centre for 11 months. He calls it a "human taming centre."
"We're not here to say the beds are dirty or the washrooms are not clean," said Aslani. "My name is Arash, but nobody called me Arash, I was 205 Delta."
Aslani, who left Iran in 2004, said he felt more like a criminal than a refugee."
Link: http://thelinknewspaper.ca/article/protesters-visit-laval-immigration-detention-centre-to-commemorate-lindsay