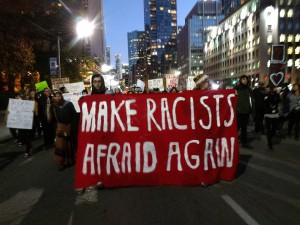 Anti-Trump Night Demo: Make Racists Afraid Again!
Friday, January 20, 6pm
Phillips Square (corner Union and Ste-Catherine West, métro McGill))
#DisruptJ20
Donald Trump will be officially inaugurated as President of the United States at around noon on January 20, 2017. Protesters in Washington, DC will be on the ground attempting to disrupt the inauguration.
Here in Montreal, we're calling for a mass demonstration of solidarity with the DC protests and in opposition to the far-right racist, sexist, homophobic, transphobic, Islamophobic and anti-immigrant agenda represented by Donald Trump. The demonstration will take place at 11am at métro Place-des-Arts. For more info, visit: www.facebook.com/events/1957125991181212/
Later in the day, we will be organizing a Night Demo starting at 6pm at Philips Square (corner of Union and Ste-Catherine West, métro McGill). Join us as we take the streets united to "Make Racists Afraid Again!"
This is a callout by the Anti-Racist Resistance Collective of Montreal (Collectif de résistance antiraciste de Montréal, CRAM) in collaboration with the Resist Trump Network (Montreal)
INFO:
web: resisttrump.ca (en contruction) or www.disruptj20.org
e-mail: resisttrumpmontreal@gmail.com
—–
WHY WE ARE PROTESTING
Donald Trump will be inaugurated as President of the United States on January 20, 2017. Protesters in DC will be attempting to disrupt his inauguration, and Montreal activists will be demonstrating in solidarity.
Beyond his toxic personality, Donald Trump represents misogynist, racist, homophobic, transphobic, and anti-immigrant politics. His platform for the United States's next four years is filled with dangerous and hateful far-right ideas that deserve to be unequivocally opposed and resisted. We reject border walls, Muslim bans, and xenophobia. Instead, we resist deportations, call for open borders, and support grassroots peoples' struggles, from water defenders at Standing Rock to the Black Lives Matter movement.
We also reject the colonialism-with-a-happy-face agenda promoted by the Trudeau government, which continues to negotiate devastating corporate trade agreements and approve pipelines. We also oppose the manifestations of racism and Islamophobia here in Quebec, such as the recent Quebec Charter of Values and the increasing rise of anti-immigrant groups that promote violence and hate speech. We repudiate the annoying liberal idea that Canada or Quebec is somehow morally superior to the USA, and instead call for cross-border alliances, from the US-Canada border to the US-Mexico border, to oppose oppression and confront repression.
All politicians, beyond their superficial personalities, are loyal to colonial capitalism. No matter which asshole is in power, this system continues to devastate and attack human beings and the Earth. We do not place any hope in politicians or political parties, but rather in using and building the collective, autonomous power of popular networks and movements.
This is a callout for anti-capitalist, anti-colonial resistance, rooted in a spirit of solidarity and support, having each other's backs, and respecting a diversity of tactics. We reject any collaboration with the police and anyone else that seeks to divide protesters.
We want to build on existing efforts in Montreal and beyond in support of migrants and refugees, in opposition to sexism, racism and Islamophobia, to homophobia and transphobia, and in building together a Solidarity City with dignity and justice for all.
Let's make sure that Donald Trump and his far-right ideas do not become normalized. We will stand in solidarity with DC protesters here in Montreal and worldwide. Join us!
[To endorse this callout, or to stay in touch, e-mail us at resisttrumpmontreal@gmail.com]