Gathering or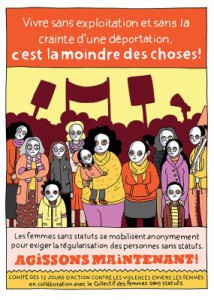 ganized by the Non-Status Women's Collective
Saturday December 3rd at 1pm
Outside the Centre des femmes d'ici et d'ailleurs offices (8043 St-Hubert)
Facebook event: www.facebook.com/events/176171272847543/
In the context of 12 days of actions against gendered violence.
After a year of actions and mobilization by the Non-Status Women's Collective of Montréal, including an open letter
to Prime Minister Justin Trudeau describing the lived precarity of tens of thousands of non-status women, we still have received no response to our demands, only indifference and silence.
We demand that the government take a position on the regularization of non-status people in Canada.
In the context of actions against gendered violence and to denounce the violence produced by the immigration system toward non-status women, we invite everybody to join us this Saturday December 3rd at 1pm outside the Centre des femmes d'ici et d'ailleurs offices (8043 St-Hubert, close to Jarry metro).
Bring your masks and white sheets in support of non-status women.
We call for the regularization of all non-status migrants in Canada!
* This is a family-friendly event, bring your kids!
* Please share widely.
* If you have accessibility needs, get in touch with us at femmes.sans.statuts@gmail.com. 
The following organizations endorse this event:
Solidarity Across Borders (SAB)

Fédération des Femmes du Québec (FFQ)

Committee « 12 jours d'action contre les violences envers les femmes » (Fédération des maisons d'hébergement pour femmes, Femmes Autochtones du Québec, Regroupement des maisons pour femmes victimes de violence conjugale, Regroupement québécois des Centres d'aide et de lutte contre les agressions à caractère sexuel, SOS violence conjugale et Y des femmes de Montréal)

Le Centre des femmes d'ici et d'ailleurs

Fondation Paroles de femmes

RQCALACS

Le mouvement contre le viol et l'inceste (MCVI)

The South Asian Women's Community Centre (SAWCC)

MUR (Mexicanxs Unidxs pour la Regularización)

The Centre for Gender Advocacy

Immigrant Workers Center (IWC)

Temporary Agency Workers Association (TAWA)

Temporary Foreign Workers Association (TFWA)

Women of Diverse Origins

Fédération du Québec pour le planning des naissances (FQPN)
Centre des femmes solidaires et engagées
Comité pour les droits humains en Amérique latine (CDHAL)
POPIR – Comité Logement

Others to be confirmed!