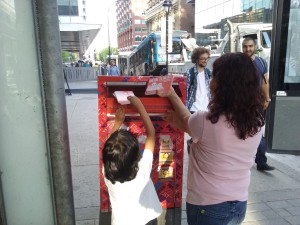 Since June 2016, the Non-Status Women's Collective of Montréal has taken to the streets twice a month to inform and engage the public about the reality of undocumented people in Canada, and to put pressure on the government to meet with them and listen to their demands.
The Collective formed last year after Trudeau's election, initiated by non-status women who wanted to get together, help each other and fight side by side. Among the most precarious groups in Canada, non-status women live without any immigration status and so are particularly vulnerable to exploitation and abuse, often working the most dangerous and difficult jobs without access to health care, education or social services and living under the constant threat of detention and deportation. They are from many different origins and backgrounds, and they all have distinct, heartbreaking stories to tell. They fight together to reject the case by case system and demand the regularization of everyone living without status in Canada.
The Non-Status Women's Collective sent an open letter to Prime Minister Justin Trudeau shortly after he was elected, asking him to take a position on people living without status in Canada, estimated at 500,000-1,000,000 today. If the Liberal government has made many statements on immigration and refugees to Canada, wanting to break the Harper era, it has remained silent on the issue of undocumented migrants. Having gathered many signatures and allies, the Collective has escalated their actions and gained broader support for their cause, yet have received no response from the Trudeau government.
Over the last few months, the Collective has organized a press conference, broadcast a video, and demonstrated silently, hidden beneath white sheets like ghosts to embody their slogan: "Continue to ignore us, we don't exist!"
The Minister of Immigration John McCallum received their letter, yet has given no response to their demands or their request to at least meet with him.
This summer, the Collective carried out numerous actions on the streets of Montreal: in Côte-des-Neiges, downtown, at Berri-Uqàm and around Lionel Groulx, the women discussed their situation and demands directly with the Montreal community. Many onlookers discovered with shock the existence and precarious living conditions of non-status people in Canada. The Collective amassed several hundred postcards demanding permanent status that were signed by community members and sent to the Minister of Immigration.
The Montreal Non-Status Women's Collective will continue to challenge the government and the public until they get a response to their main hope and demand: the regularization of all non-status people in Canada!
Open Letter from the Non-Status Women's Collective of Montreal
Video: "We want to live with dignity, peace and stability"
Contact: femmes.sans.statuts@gmail.com
Context, more information and media coverage