PRESS CONFERENCE IN SUPPORT OF VICTOR MORALES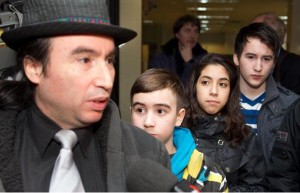 Today at Mont Zion Evangelical Church, 7064 St. Hubert St., where Victor has long been a member of the congregation, family, friends and community members will gather for a press conference to reject double punishment and demand status for Victor Morales.
After living and working in Montreal for 32 years, musician Victor Morales was slated to be deported on February 8th to Chile – a country his family fled when he was just six years old. Victor Morales went to Federal court and obtained a stay of deportation on grounds that the Canadian government is obliged to protect family life and the best interests of his children.
This Sunday, November 13th, 2011, Victor Morales and fellow musicians will perform Andean music before his congregation where he has been active for years. This short performance will be followed by a press conference, during which several members of his community will express their support for Victor and his indisputable place in Quebecois and Canadian society.
Victor was accepted as a refugee by Canada in 1978 and subsequently became a permanent resident. Although he obtained a stay of removal, he is still threatened with deportation. "It is so discouraging" Victor explains. "It feels like at every step, there is a huge battle just to prove myself. I am so tired. All I want is peace, and to take care of my family in peace."

 For the best interests of his children and the protection of family life, Victor applied to stay in Canada for humanitarian reasons. He now awaits a decision for a judicial review of the refused humanitarian and compassionate claim for permanent residency from the federal court.
"We hope to send a strong message to the public and to the government that Victor Morales's place is here, among his friends and family, and with the community where he has lived since his early childhood," states Rosalind Wong of Solidarity Across Borders.  "In order for double punishment to go unopposed, authorities paint people like Victor as irredeemable perpetrators of 'great criminality'. But the truth is that many are parents, workers, and friends who work hard and who take care of their families. They are capable of turning their lives around overcoming enormous obstacles and do contribute to society.  Double punishment only succeeds if we ignore this reality, and allow that they be stripped of their humanity, their dignity and their rights."
– 30 –