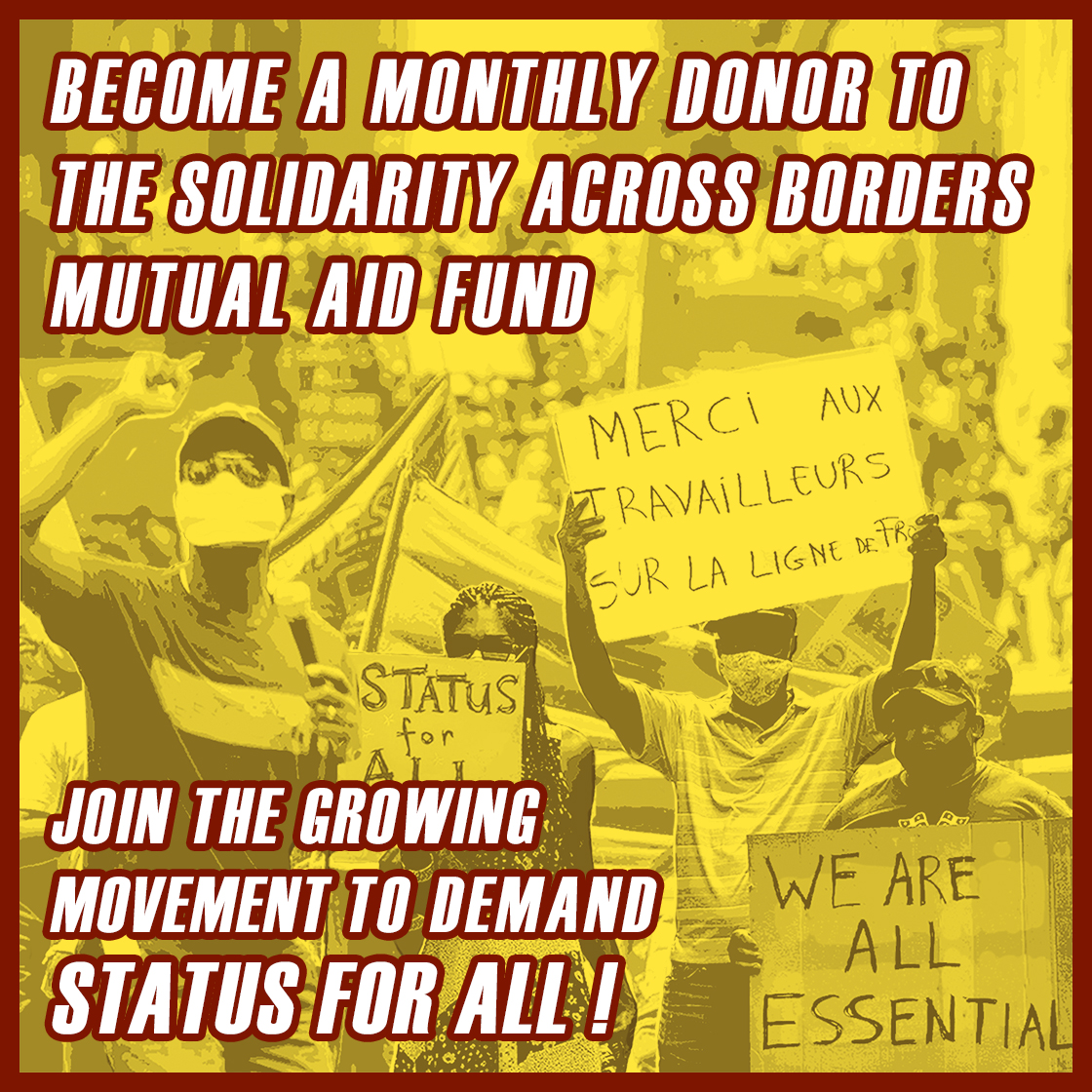 Become a Monthly Donor Today
To become a monthly donor, select the amount you are able to give on our right menu under "Make Monthly Donations." Then follow the instructions through PayPal. You can alternatively see with your bank about setting up automatic transfers to Solidarity Across Borders. If you have any questions about this, get in touch with us at solidaritesansfrontieres@gmail.com.
If possible, please set your donation to be delivered around the 20th-25th of each month, as this is when we receive many requests for support with rent payment.
How to Donate
→ Gofundme: https://www.gofundme.com/f/levee-de-fonds-pour-nos-voisins-sans-statut
→ E-transfer: Send an e-transfer to solidaritesansfrontieres@gmail.com
→ Cheque made out to "Solidarité sans frontières" / cash that can be mailed to:
Solidarity Across Borders
CP 65083 BP MOZART
MONTRÉAL, QC
H2S 2S0
→ Online / By PayPal: click the button to the right to donate through Pay Pal.
How to Get Support and What Type of Support This Fund Offers
We hope this fund will help cover urgent costs such as:
Food
Rent
Cellphone bills
Medication
If you are a non-status migrant who needs support, please contact Solidarity Across Borders:
Email: solidaritesansfrontieres@gmail.com
Phone: 514-809-0773 (leave a message and someone will return your call)
---
The coronavirus crisis has had dramatic consequences for the global economy and for the political and social realities of our present. We have all been affected, but those in structurally vulnerable social positions have been – and continue to be – hurt the most. Since long before the pandemic, our neighbours, friends and family members with precarious immigration status have been living in difficult conditions and working in the lowest-paid and most dangerous jobs, without any protections. This situation has only intensified over the past six months, as hundreds of thousands of non-status people in this country have had to weather the crisis without access to the government relief programs that have benefited so many of us, and are struggling to meet basic needs for themselves and their families. We continue to insist that there is only one real solution: Status For All.
For nearly two decades, members of Solidarity Across Borders (SAB) have worked to counter the violence of Canada's immigration system — an apartheid structure that divides people on this land between those who are granted basic human rights and those who are not. Pushing against and beyond the many barriers of this system, we have levied our vision of a community based on care and mutual aid. Direct support work for members of our network has always been a vital part of our organizing. With and without status, members of SAB support and fight alongside each other to demand justice for migrants and refugees, and through this global crisis, we continue to work towards building a more equitable world, where all of us can live with dignity and without fear.
Donations to our mutual aid fund increase our capacity to struggle collectively for justice, and allow those who are most affected by the violence of Canada's immigration system to lead this fight. Since March we have redistributed financial resources to help pay for rent, food, medication and basic utilities for hundreds of individuals and families in our network who have been denied access to emergency government relief because of their lack of status. As of September, we have redistributed over $200,000 in this way, a number which represents only a fraction of the real need for support that exists in our community. We plan to continue this work into the foreseeable future, but with no meaningful end to the crisis in sight, and with requests for support continuing to come in daily, we urgently need your financial support.
To maintain our current capacity, we aim to fundraise approximately $20-30,000 per month. We know this is no small task, and every donation, no matter the size – from individuals, community organizations, student groups, unions, faith communities and so on – are greatly useful and deeply appreciated. In particular, we want to strongly encourage supporters to sign up as monthly donors: even in small amounts, this is the best way for us to set up a reliable and sustainable baseline of resources.
This is not charity: it is an active practice of solidarity and a small movement towards redress for the generations of exploitation that have built this country into what it is today. In these times of crisis, this is what community looks like, and we are so grateful for your support.