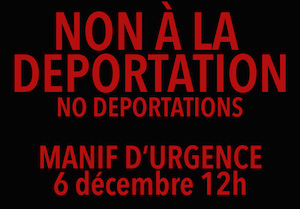 Sunday December 6th, at noon
Metro Parc
The Canadian Border Services Agency has just announced its decision to resume deportation proceedings starting this week, even as the COVID-19 crisis continues to escalate. Join Solidarity Across Borders on Sunday December 6, 12pm to condemn this reckless attack on our communities, and demand Status For All now. Not one more deportation!
Throughout this year, the coronavirus pandemic has exposed the injustice and inequality at the roots of our social systems. In response, we took to the streets in the tens of thousands, organized press conferences, wrote letters and signed petitions, called elected officials and talked with our neighbours and coworkers. Again and again, we have made our voices loud and clear: we REFUSE to allow a return to "normal" that continues to force hundreds of thousands to live in conditions of exploitation and fear of deportation.
We are your neighbours, we are friends and family members, and above all we are human beings who deserve respect and dignity. A return to "normal" for the Canadian Immigration system is a disaster for our communities, and we will not allow this to stand. The immigration system's exclusion, detention and deportation of people without citizenship status are, in and of themselves, colonial and racist measures.
During the first wave of the pandemic, CBSA was forced to place all removals on hiatus, citing public health concerns related to the spread of the coronavirus. The coronavirus hasn't gone anywhere, and neither have we. Deportation is always an act of violence, which we condemn under any circumstances. We all have a right to permanent status, and a life of dignity and peace for ourselves and our children!
We are part of a widespread, grassroots movement to demand justice for non-status migrants, and the movement has gained significant strength and momentum throughout this past year. This Sunday, we take to the streets in solidarity with members of our community, our families, our comrades, our friends.
We will rally to DEMAND a full halt to all deportations and the immediate regularization of all non-status people living in Canada, and we will not stop until we win.
To demand justice and dignity, join us!
*Physical distancing measures will be respected.