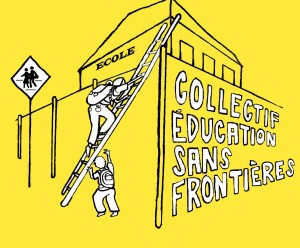 -> MINISTRY OF EDUCATION GUIDELINES CONTINUE TO CHARGE NON-STATUS KIDS THOUSANDS OF DOLLARS
-> THE EDUCATION FOR ALL COLLECTIVE DENOUNCES THE SYSTEMIC RACISM OF THE MINISTRY OF EDUCATION AND QUEBEC GOVERNMENT
-> NON-STATUS PARENTS CAN FROM NOW ON ENROLL THEIR KIDS IN SCHOOLS, WITH VIGILANCE
(la version française de ce document est disponible ICI)
(la versión en español de este documento está disponible AQUÍ)
(Wednesday, August 21, 2013 – Montreal) The Quebec Ministry of Education, just one week before primary and secondary school kids begin classes, has finally provided Quebec school boards with their guidelines concerning access to school for children with precarious immigration status. The guide is not public, but the Collectif Education Sans Frontieres has obtained a copy that is linked here: www.solidarityacrossborders.org/wp-content/uploads/DocumentInscriptionMalavoy.pdf
The guidelines are fundamentally insulting to the reality of non-status kids and their families. Non-status kids still face exorbitant fees. The Ministry of Education continues to link access to free schooling with immigration status, which serves to discriminate against non-status children. The changes, which are purely administrative and non-binding, still in essence exclude at least several hundred kids living in Quebec. The kids who are the most precarious as a result of their immigration status are the most excluded under the guidelines.
In stark contrast, all children in the USA, including undocumented kids, can access schools by virtue of a Supreme Court decision. Toronto and Vancouver, the two other main immigrant centers in Canada, allow non-status kids to enter schools. Quebec remains the notable exception.
Despite the reality of hundreds, if not several thousand non-status kids being denied access to primary and secondary schools, the Quebec government refuses to act decisively in this situation where the majority of children being denied schooling are racialized migrants.
We accuse the Ministry of Education and the Quebec government of consciously allowing systemic racism to be perpetuated. The current situation is intolerable, and shows gross insensitivity to the basic dignity of migrant families.
It's clear that full access to education by all children living in Quebec is not part of the Quebec government's "values".
The Collectif éducation sans frontières finds that recent government decisions lack visibility and publicity. We have therefore decided to publicize the ministry's directives to the school boards. We also provides basic information, below, about the Ministry of Education guidelines, so that directly concerned families can decide how to access schools, and to provide an analysis to the general public. Please consult our website – www.solidarityacrossborders.org – for further updates.
—–
ABOUT THE MINISTRY OF EDUCATION GUIDELINES TO QUEBEC SCHOOL BOARDS
The Collectif éducation sans frontières has obtained the Ministry guidelines to Quebec school boards concerning children with precarious immigration status. We are making those guidelines public here: www.solidarityacrossborders.org/wp-content/uploads/DocumentInscriptionMalavoy.pdf
IF YOUR CHILDREN ARE UNDOCUMENTED IN QUEBEC, CAN THEY ATTEND PRIMARY AND SECONDARY SCHOOLS?
Our understanding of the guidelines is that if you are able to provide a birth certificate (from the country in which your child was born) along with some basic proof that you reside within the area of a given school board (a phone or hydro bill or a notarized statement), then you can register your child for school. You should no longer be required to prove your immigration status for an initial enrollment.
However, non-status children will eventually be asked to pay tuition fees (upwards of $5000 to $6000 per year, per child). This money will not be asked for at the time of registration, but you will be billed eventually. In other words, your immigration status does effect whether you will be asked to pay.
However, while school boards will generally bill parents, but they will likely not actively seek to collect the money. This has been the experience of a number of non-status families who have registered their kids with different school boards.
The Collectif éducation sans frontières will continue its efforts to ensure access to primary and secondary schools, without fees. We will also support families who want to challenge paying fees. In the mean time, parents can decide whether to enroll their kids, knowing that they will be asked for a "financial contribution". If you would like support and accompaniment when dealing with school board bureaucrats, please let us know (phone and e-mail below).
SERIOUS PROBLEMS WITH GUIDELINES
There are serious flaws with the guidelines to school boards and the Ministry of Education's general approach.
i) Less that a week before classes start, the Ministry of Education has not undertaken a public campaign to actually inform caregivers and parents about the possibility of enrolling their children in schools. The guidelines they have written are for school board bureaucrats, not for the general public. The lack of accessible public information is unacceptable.
ii) The Ministry of Education's guidelines do not make it obligatory for school boards to change their practices. They simply provide "simplified information," which "do not replace laws, regulations or other guidelines". Due to a lack of principle, the Ministry of Education refuses to change the law to guarantee that all kids are able to realize their right to be educated.
iii) While the guidelines address confidentiality of information, there needs to be stronger provisions guaranteeing that no information concerning migrants, especially undocumented migrants, will ever be shared beyond the school board itself.
iv) The Ministry of Education is still excluding at least some non-status children by obliging thousands of dollars in tuition fees.
v) The Ministry of Education still insists on making reference to immigration status for various categories of education rights. The right to free primary and secondary school is completely independent of immigration status.
STAY IN TOUCH
You can contact the Collectif éducation sans frontières at solidaritesansfrontieres@gmail.com or 438-933-7654.
For updates, visit: www.solidarityacrossborders.org/en/education-across-borders-collective