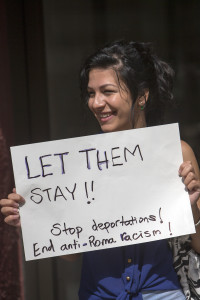 Katalin Lakatos and her daughter Gilda, two Roma woman from Hungary who waged a five year battle to get papers in Canada, surviving three deportation orders, have finally been accepted. After months of waiting in precarity and anxiety, they finally received an official acceptance of their application for permanent residence on humanitarian grounds last week. Thanks to community support  and their own impressive courage, they will now be able to build their lives in Canada and be reunited with their brother and father who were deported in March.They still face lengthy and very costly administrative processes before the nightmare is behind them, however. Moreover, the two men who have already been deported must reimburse the cost of their deportation (3000$ in total) before they are allowed to return. At the same time, they are not entitled to work because they still haven't received their work permits.
We are thus once more calling on your solidarity to share these costs with the Lakatos family so they can pay the final administrative costs.
To send donations (by cheque/paypal/cash/etransfer): click here. Don't forget to put "lakatos" in the memo line.
Thank you for your support and solidarity.
End deportations, close detention centre, regularization now!
Background
Chronology of Family's Struggle