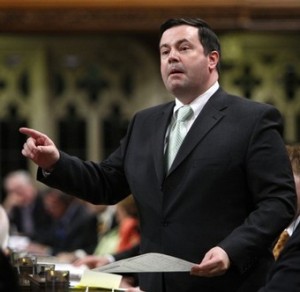 MINISTER OF IMMIGRATION KENNEY DISRUPTED IN MONTREAL
Approximately twenty migrant justice activists and allies, including many involved in the militant student movement, entered a hall where Minister of Immigration (aka Minister of Censorship and Deportation) Jason Kenney was scheduled to speak yesterday. Kenney was in town to promote market-driven immigration in a talk called, "Targeted, Fast and Efficient Immigration System with Focus on Jobs and Growth."
The activists shouted anti-racist slogans such as, "No borders, no nations, stop the deportations," and held a banner stating, "Jason Kenney emprisonne les réfugié-e-s. Arrêtez le projet de loi C-31. Mettez fin au racisme! (Jason Kenney imprisons refugees. Stop C-31. End racism!)"
After they were driven out by the SPVM (Montreal police), the event was delayed as police secured the location. The police also prevented CUTV, a Concordia University station, from entering despite the fact they were already registered and other media were allowed to enter.
A lavish meal, at $100 per plate, was provided to people from companies such as SNC-Lavalin, Hydro Quebec, Rio Tinto Alcan and Bell Canada, as well as to journalists. A table was also reserved for McGill University.
Gerry Weiner then introduced Jason Kenney. (When he was the federal Immigration Minister himself, Gerry Weiner brought in the investor class of immigrants; he now works for a consulting company tailored to these investor immigrants, Pace Global Advantage.) Weiner congratulated Kenney for forcing women to uncover their faces while taking the citizenship oath, for replacing family sponsorship with super visas for the rich, for making changes to the immigration system that would cater to corporate needs, and for successfully challenging some of the "sacred cows" of the immigration system (presumably treating migrants with some degree of dignity).
In classic disinformation style – ignoring the lively protest outside and the earlier mass disruption – Mr. Weiner claimed that Jason Kenney had been able to bring in these changes with no opposition and no nay-sayers.
As Jason Kenney began to speak, a migrant-justice activist rose to challenge Kenney's immigration policies.  She specifically challenged the Refugee Exclusion Act (Bill C-31), which will make permanent residency conditional for accepted refugees. Those who have already been accepted as refugees and granted permanent residency risk losing their status if it is determined that they are no longer in need of protection. She stated that this will further put people who are poor, women, children, and LGBTQ in danger and place them in a perpetual state of precarity and violence.
After she was dragged out, shouting, "immigrants are not commodities!", Kenney struggled to regain his composure. But as he resumed his
speech, a second activist interrupted to denounce the fact that, under Mr. Kenney's Refugee Exclusion Act, refugees will face mandatory imprisonment
for one year. Child refugees will either be detained with their mothers or separated from both parents. She, too, was forcibly removed by security
guards, as she called for people to fight against such immigration laws, which are destroying people's lives.
Outside, a family friendly rally took place with speakers from the South Asian Women's Community Centre, Women of Diverse Origins, the Immigrant Worker's Centre, Mexicans United for Regularization, Solidarity Across Borders, the People's Commission Network, and No One Is Illegal. They spoke passionately and powerfully about Bill C-31's effects on women and LGBTQ migrants, double punishment (where migrants pay twice for the same crime: criminal sentence and then deportation), the detention and deportation of migrants based on their profile (security certificates), and the situation of Mexicans fighting for status in Canada, a country blind to the violence and instability of its Mexican business partner.
The main body of the rally then went to join forces with the powerful demonstration against Plan Nord taking place on the other side of town, making links between Jean Charest's colonial expansion project in the north of Quebec, his massive tuition increases, and Jason Kenney's commodification of the immigration system in Canada.
Previous disruptions of Kenney in Montreal in 2010 and 2009:
2010: http://nooneisillegal-montreal.blogspot.ca/2010/03/jason-kenney-perturbe-et-confronte.html
2009: http://nooneisillegal-montreal.blogspot.ca/2009/10/i-plead-guilty-im-racist-jason-kenney.html
No One Is Illegal! All power to the people!
http://www.nooneisillegal.org/