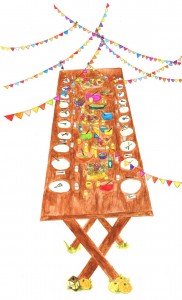 STATUS FOR ALL!
SATURDAY, APRIL 28, 2012
Dinner starts at 6:30pm
Location: Notre Dame des Sept Douleurs Church, 284 de l'Église, Métro de l'Église
Food, entertainment, speakers, and more!
FREE. Childcare and kids activities on site. Bring your family!
Welcome to all!
The Status For All! Coalition is composed of Solidarity Across Borders, No-One Is Illegal, Dignidad Migrante, Immigrant Workers' Centre, JOC Montreal, and Mexicans United for Regularization, the Status For All! Coalition will be hosting its next community dinner, a "Spring Gathering," in anticipation of the May 26th Status For All! march. 
Join us for an evening of delicious food, good company, entertainment and shared stories from those who are fighting for justice and dignity. Learn more about the current mobilization strategies for our Status For All! campaign, as well as our efforts to build a Solidarity City. The event will also be catered with the help of le Réseau D'Entraide de Verdun and the People's Potato.
The Evening will include:
* A Community Dinner (both vegan and meat options will be available)
* Speakers
* Music and other performances!  And more!
Info:  statutpourtoutessouper@gmail.com
If you can help with the preparation of food, or help with cleaning, get in touch. We need volunteers!
If you can help with the distribution of flyers and posters for this dinner, get in touch as well!
Contact us with your questions about accessibility.