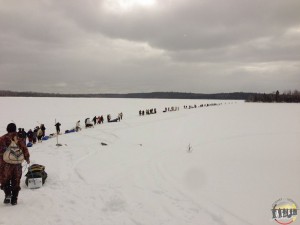 Delegation to Ottawa to Welcome Nishiyuu Walkers
**details on how to reserve your seat are below!**
Status for All! is organizing a delegation to travel to Ottawa on Monday, March 25th to show our support for indigenous youth who have walked more than 1000 km since early January from Whapmagoostui First Nation on James Bay. Starting in the context of Idle No More, the youth aim to help awake and unite First Nations across Turtle Island. The youth-led walk, which has grown from seven to over 150 youth in the journey south through Cree and Algonquin lands, has already been a tremendous source of inspiration and a powerful assertion of indigenous presence, strength and unity in Quebec and Canada.
Status for All recognizes that struggles for migrant justice and indigenous self-determination are inter-connected: Canada is a colonial state that imposed its borders on indigenous lands; illegitimate borders that continue to divide indigenous communities and control who can enter and leave these lands. Many arriving in Canada to seek better lives are fleeing from countries that continue to be devastated by colonial divisions and violence. This includes indigenous people whose lands have been expropriated to serve the interests of Canadian companies, especially mining companies. Justice in Canada begins with decolonization!
==> If you would like to reserve a seat with the Status for All delegation to Ottawa in support of the Nishiyuu Walkers and self-determination of indigenous peoples, email us at solidaritesansfrontieres@gmail.com! We will be leaving at 7am, meeting location to be announced. We'll likely return around 6 or 7pm.
==> If you have a car to drive or lend, please let us know!
**We'll be asking people to contribute $15 or as much as they can; but no one will be turned away for lack of funds!
**We'll ask people to bring your own lunch and water and some to share!
**The day will involve a lot of walking, so bring your best boots/gloves; we'll have a car that can help out when people need a break.
Status for All is a coalition of organizations – Mexicans Uited for Regularization, Dignidad Migrante!, Solidarity Across Borders, No One Is Illegal, and the Immigrant Workers' Centre – and individuals demanding an end to deportations and an end to detentions and double punishment of immigrants.
This delegation is organized in the context of the Status for All March, which will take place on Saturday, May 18th in Montreal. INFO: www.solidarityacrossborders.org/en/francais-preparez-vos-calendriers-18-mai-marche-un-statut-pour-tous-toutes