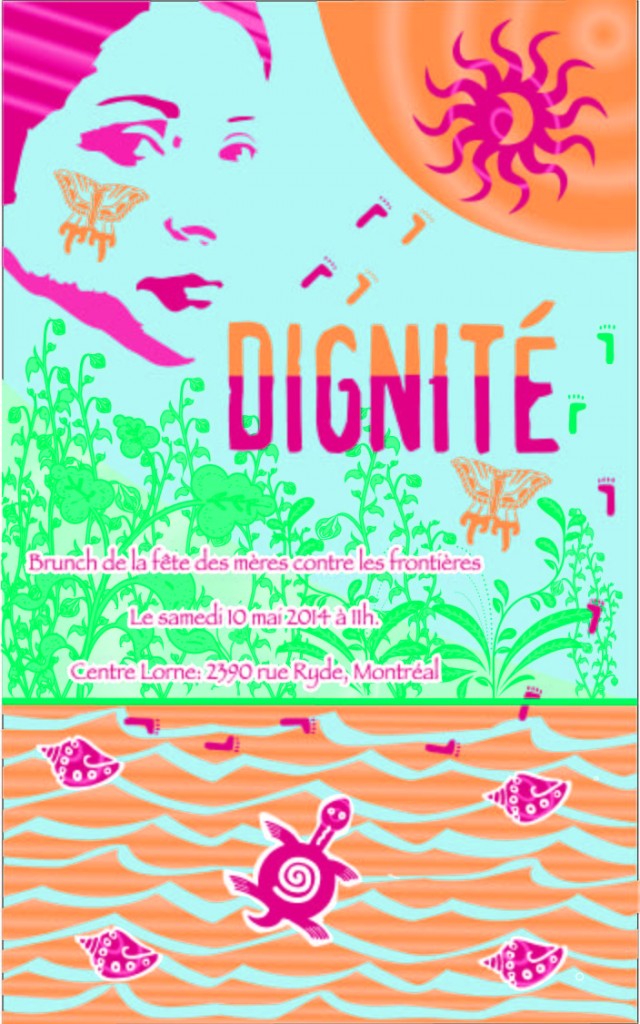 Mothers Against Borders Brunch
A Fund-Raiser
Lorne Centre, 2390 Ryde St. (Charlevoix Metro)
Saturday, 10 May 2014, at 11am
Free Entry & Free Food, but donations to help with Ivonne's legal costs are encouraged. Suggested: $10 to $20.

– Fun activities for kids!
– Wheelchair accessible.
– Any special dietary needs or other accessibility questions? Get in touch at justicepourivonne@gmail.com
On the eve of Mothers' Day, the Justice for Ivonne Committee is hosting a brunch to celebrate the struggle of Ivonne Hernandez and other courageous mothers who have crossed and defied borders for their children. The event is also a fundraiser to help cover Ivonne's legal fees in her continuing fight to stay in Canada with her son.
Guests are invited to come with a small toast to celebrate the courage and strength of mothers against borders: a poem, a few simple words, a testimony, or even an art object.
Background
In the spring of 2012, Ivonne Hernandez joined the ranks of the estimated half a million people living without papers in Canada, who are among the most vulnerable and exploited members of our society.
Women without papers are particularly vulnerable. Pregnant with her first child when the deportation order came, Ivonne was denied access to free public healthcare necessary to follow the pregnancy. As her relationship with her Canadian husband worsened, he began to use her immigration status as a threat to hold over her.
By December, the relationship had deteriorated to the point where Ivonne fled her home with her son, now a year old, to take refuge in a shelter for victims of conjugal violence. Her partner promptly denounced her to police.
In a shocking and rushed ruling on January 10, 2014, a family court judge awarded custody of Ivonne's son to the Canadian father, citing Ivonne's vulnerable immigration status. After being together constantly since his birth, Ivonne and her son were suddenly allowed to see each other only eight hours a week.
Then, as Ivonne went to pick up her son for a scheduled visit, she was surrounded by police in a public take-down planned between the CBSA and her husband. She suddenly faced the prospect of being deported and never seeing her son again.
Just days before her removal, in the midst of a significant  mobilization in support of Ivonne, the Federal Court granted her a tempory stay of deportation. Effectively, this means Ivonne cannot be removed from Canada and her community in the coming months. In his decision, the judge cited the irreparable harm that would be caused if Ivonne were deported and permanently separated from her 14-month old son.
Ivonne regained full custody of her son in March. Shortly afterwards, her immigration file was officially re-opened. She now awaits a response from immigration on whether her status will be regularized and she will be able to remain in Canada with her son.
Contact Information
The Friends of Ivonne
e-mail: justicepourivonne@gmail.com
new website!: www.justicepourivonne.org