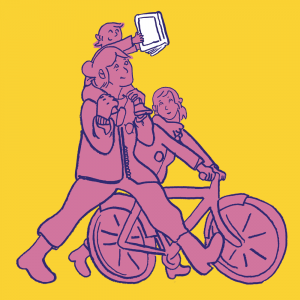 Solidarity Across Borders will have a table at the upcoming Montreal Anarchist Bookfair, and many of our members will be there too, in different roles. You are invited to attend! There are activities for kids and it's a free event. The Montreal Anarchist Bookfair is for people who are curious about anarchism and want to learn more. More details below.
MONTREAL ANARCHIST BOOKFAIR 2015
Saturday, May 23 & Sunday, May 24
10am-5pm on both days
Note: Booksellers and vendors will be displaying only on Saturday, May 23. Workshops, theme rooms, films, art and more will take place on both days.
The Anarchist Bookfair takes place in two buildings across from each other in Parc Vinet:
– Centre Culturel Georges-Vanier (CCGV), 2450 rue Workman
– Centre d'éducation populaire de la Petite-Bourgogne et de St-Henri (CEDA), 2515 rue Delisle
A short walk from Lionel-Groulx metro.
-> WHAT HAPPENS AT THE MONTREAL ANARCHIST BOOKFAIR?
-> DOWNLOADS (posters, flyers, logos, audio):
* Acknowledgement: www.anarchistbookfair.ca/about/acknowledgement
* Principles: www.anarchistbookfair.ca/about/principles
* Safe(r) Spaces Policy: www.anarchistbookfair.ca/accessibility/safer-spaces-policy-bookfair
* Accessibility Policy and Committment: www.anarchistbookfair.ca/about/accessibility
—–
HIGHLIGHTS
-> Volunteers!
We are looking for volunteers to actively support the organizing of this year's Bookfair! There are many tasks associated with the Bookfair, including planning and preparing for childcare and kids activities, preparing food, Art and Anarchy, workshops and presentations, organizing tables and distributors, translation, and more. As well, there is the promotion of the Bookfair itself, which includes postering, flyering, online publicity and more. If you can help, e-mail us at info@salonanarchiste.ca. Read more details here: http://www.anarchistbookfair.ca/volunteer-for-the-montreal-anarchist-bookfair
-> Workshops and Presentations (May 23 & 24)
The Montreal Anarchist Bookfair content this year includes four (4) introduction to anarchism workshops (2 each in English and French) as well as eighteen (18) workshops and presentations exploring a topic related to anarchism in some depth. Our schedule in brief is included below; more detailed descriptions are linked here: www.anarchistbookfair.ca/workshops-presentations-2015
-> Tables (May 23)
The main auditoriums of the Montreal Anarchist Bookfair will include booksellers, distributors, independent presses and political groups from all over Montreal, Quebec, North America, and abroad. Reminder: this year, there will be tabling on one-day only: Saturday, May 23, from 10am to 5pm. More details here: www.anarchistbookfair.ca/tables-2015
-> Chill Space (May 23)
The Chill Space was created out of the recognition that the Bookfair can be really overwhelming and intense for a variety of reasons, and that folks might need a place to be apart from the main Bookfair without feeling like they have to leave altogether. For details:  www.anarchistbookfair.ca/chill-space-2015
-> Kidz Zone (May 23 & 24)
Feel like wandering around the Bookfair without your kid(s)? Are they itching for some games, fun activities, and snacks? Alternatively, would you like a space to chill out? Bring your kid(s) to the Kids Zone for tons of radical childcare fun! More details here: www.anarchistbookfair.ca/kidz-zone-2015
-> Art & Anarchy (May 22-24)
Art & Anarchy brings together the creations of anarchist-inspired artists and organizers. This year's Art & Anarchy exhibition includes paintings, illustrations, posters, prints, sculptures and more. For details: www.anarchistbookfair.ca/art-anarchy-2015
-> Film Festival (May 22-24)
The Anarchist Film Festival features anarchist-inspired films and will take place over three days! For details: www.anarchistbookfair.ca/anarchist-film-festival
-> Anarchist Bookfair Opening (May 22)
On the Friday before the Anarchist Bookfair, join us for a social gathering at the CEDA. This event will be an opening for Art & Anarchy; meet the contributing artists and get a first look at this year's exhibition. It's also a gathering space for artists, workshop presenters, distributors, volunteers and collective members involved with the Montreal Anarchist Bookfair. Join us! The Anarchist Film Festival will also present a series of short films. For details: www.anarchistbookfair.ca/opening-gathering-may-22
-> Autonomous Media Room (May 23)
The Autonomous Media Room is dedicated to sharing the skills and knowledge of different mediums as deployed by anarchists, such as pirate radio, DIY digital editing, secure communication, and more. As always, we will be doing a live broadcast from the Bookfair. For details:www.anarchistbookfair.ca/autonomous-media-room
-> Anti-Canada Room (May 24)
The year 2017 will mark the 150th anniversary of Canadian Confederation. The next three years will see a concerted attempt by the state to promote the idea of a beneficent and progressive "Canada", locally and internationally, as well as to whitewash, literally, Canada's past. This theme room will allow us to learn about different anti-Canada perspectives, as well to network a bit about potential anti-Canada organizing in the coming months and years. For details: www.anarchistbookfair.ca/anti-canada-room
-> Festival of Anarchy (May 1 – June 7)
The entire month of May (and part of June) is the Festival of Anarchy, with diverse anarchist-themed events occurring at different venues all over the island of Montreal. The Festival of Anarchy is organized as part of the Montreal Anarchist Bookfair (May 23-24, 2015) and is one of the largest anarchist events in North America. Full schedule: www.anarchistbookfair.ca/festival-of-anarchy-2015
—–
WORKSHOPS & PRESENTATIONS
AT THE MONTREAL ANARCHIST BOOKFAIR
Full details: www.anarchistbookfair.ca/workshops-presentations-2015
SCHEDULE IN BRIEF
All workshops will include whisper translation into English or French.
CCGV = Centre Culturel Georges-Vanier (2450 rue Workman)
CEDA = Centre d'éducation populaire de la Petite-Bourgogne et de St-Henri (2515 rue Delisle)
SATURDAY, MAY 23, 11am
– Anti-authoritarian struggles in Palestine and in the Arab World: Models of self-governance and horizontal organizing (Budour Hassan from Jerusalem, via skype) – CEDA, room #123 (EN)
– (Autonomous Media Room) Indymedia reporting from the streets (CKUT) – CEDA, room #125 (FR/EN)
– Anarchist Writers Meeting (Montreal Anarchist Writers Bloc) – CCGV, room 2.100 (FR/EN)
SATURDAY, MAY 23, 1pm
– (INTRODUCTION TO ANARCHISM) Anarchism and anti-colonialism (Ni Québec, Ni Canada) – CEDA, room #123 (FR)
– (Autonomous Media Room) FemCrypt (FemHack & Koumbit) – CEDA, room #125 (FR/EN)
– Anarchist and anti-racist perspectives against Islamophobia in Quebec (Mary Foster & Jaggi Singh) – CCGV, room 2.100 (FR)
– Practical strategies & tactics for anarchist writing (Alexis Shotwell) – CCGV, room 1.100 (EN)
SATURDAY, MAY 23, 3pm
– (INTRODUCTION TO ANARCHISM) Anarchism's Great Ideas Explored in Great Books (Christine Renaud) – CEDA, room #123 (EN)
– (Autonomous Media Room) Transmitter Building Workshop (CKUT) – CEDA, room #125 (EN/FR)
– The tomorrows that sing (Jacques Esnault) – CCGV, room 2.100 (FR)
– Safe Space and Other Problems (Virgil Addison, Estelle Davis, Kristin Li) – CCGV, room 1.100 (EN)
SUNDAY, MAY 24, 11am
– Glamarchy: Black, Indigenous & Femmes of Colour Anti-Authoritarian Organising in Dude-Centric Spaces (Kama La Mackerel, An Li, & Yun Ching) – CEDA, main auditorium (FR/EN)
– Mutual Aid vs Gentrification and State Terrorism (Olivia Cieri & Skanda Kadirgamar) – CEDA, room #119 (EN)
– For the Long Haul: Care, Intention, and Steadiness in Radical Organizing (Chris Dixon) – CEDA, room #123 (EN)
– (Anti-Canada Room) Canada the Apartheid State: Myths and Realities (Clifton Arihwakehte Nicholas) – CEDA, room #125 (FR)
– Agitprop theatre as a tool of change and experimentation (PASC) – CCGV, room 2.140 (FR)
– We should talk about Facebook (DIRA) – CCGV, room 1.110 (FR)
SUNDAY, MAY 24, 1pm
– Confronting Anti-Black Racism in Anarchist Communities and Learning from Black Lives Matter Resistance (Raissa Simone) – CEDA, main auditorium (EN)
– Radical Sobriety: Anarchist Perspectives on Addiction and Recovery (RadSob) – CEDA, room #119 (EN)
– (INTRODUCTION TO ANARCHISM) Unity in diversity: Portrait of contemporary anarchism in Québec (Rachel Sarrasin) – CEDA, room #123 (FR)
– (Anti-Canada Room) Indigenous Land Defense Against Colonialism (Kanahus Manuel) – CEDA, room #125 (EN)
– Prisoner Support (former prisoners) – CCGV, room 2.100 (FR)
– May 1st and anarchism in Montreal: A partial history (Carl Robichaud) – CCGV, room 1.110 (FR)
SUNDAY, MAY 24, 3pm
– Organizing versus Mobilizing: Making Our Activism Relevant to the People (Network for the Elimination of Police Violence) – CEDA, main auditorium (EN)
– NGOs and neo-colonialism (Andres, Iléana and Robert) – CEDA, room #119 (FR)
– (INTRODUCTION TO ANARCHISM) Everyday Anarchism (Cindy Milstein) – CEDA, room #123 (EN)
– (Anti-Canada Room) Building Resistance to Canada 2017 (anti-Canada anarchists) – CEDA, room #125 (FR/EN)
– Anarchy and Insurrection: The permanent conflict perspective (Mandy Hiscocks, Dan Sawyer, Jaggi Singh) – CCGV, room 2.100 (FR)
– Where the Wild Things Go: Anarchist Knowledge and Practice (Layla AbdelRahim) – CCGV, room 1.100 (EN)
Full details: www.anarchistbookfair.ca/workshops-presentations-2015