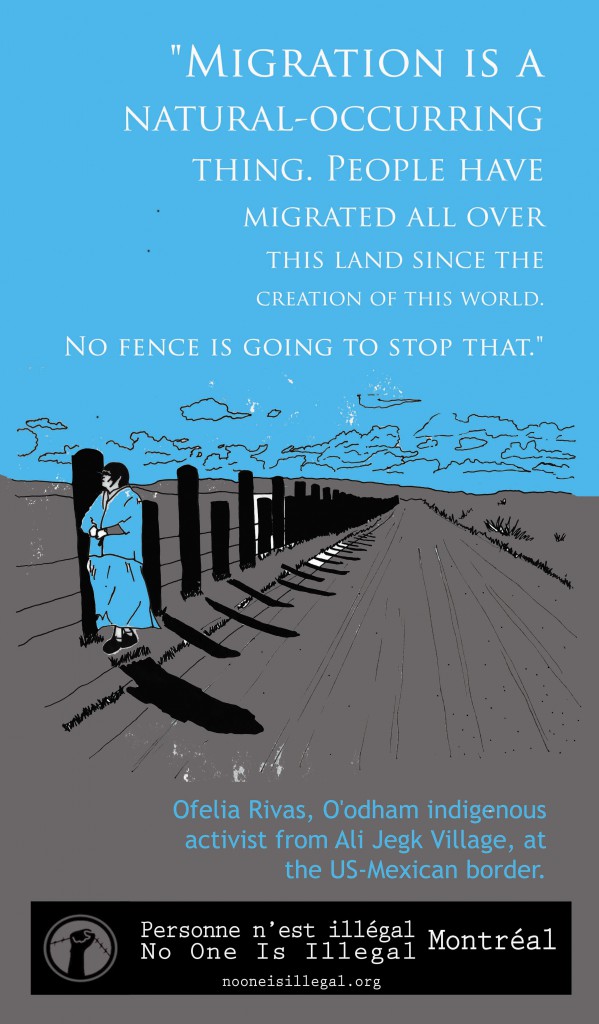 "OUR TERRAIN OF STRUGGLE":
Resisting Capitalism, Borders and Global Apartheid
Thursday, May 28, 7pm
1500 de Maisonneuve West, #204
(métro Guy-Concordia)
(facebook: www.facebook.com/events/435202943315001/)
This multi-media presentation will explore the research and lived experiences that ground a "no one is illegal/no borders" analysis. Among the conclusions: all border controls are fundamentally racist; all nation-states are inherently oppressive; all human beings have the autonomous right to migrate, to resist displacement, and to return; and, in opposition to imposed notions of "race" or "community", we struggle to assert self-determined identities. In a context of global apartheid, there are very specific challenges for grassroots organizing on a shifting terrain of struggle that is rooted in the lived reality of those who daily confront oppression.
Presented by Jaggi Singh of No One Is Illegal-Montreal. Jaggi is from working class immigrant Toronto.  He was a co-initiator of the Anti-Capitalist Convergence (CLAC) in 2000, and is a community organizer active with Solidarity Across Borders and Justice of the Victims of Police Killings. He's an anti-colonial anarchist.
Free event.
Childcare available (please phone 514-848-7585 to reserve in advance).
Space is wheelchair accessible.
Traduction chuchotée (anglais vers français)
Organized by No One Is Illegal-Montreal as part of the Festival of Anarchy. This event is endorsed by Solidarity Across Borders.
web: www.nooneisillegal.org
e-mail: nooneisillegal@gmail.com
facebook: www.facebook.com/NoOneIsIllegalMontreal
twitter: @NoOneIsIllegal