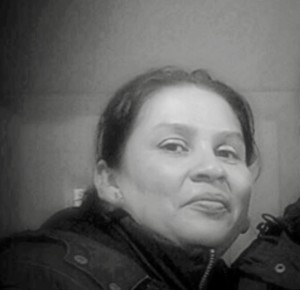 UPDATE: The Federal Court is hearing Lucy's case to stop the deportation tomorrow (Thursday) at 11am (by phone). If successful, this would stop Lucy's deportation, still scheduled for Friday, April 13th. There has been no word from either Minister despite the tens of thousands of calls and emails they have received, asking them to stop the deportation of this undocumented single mother.
→ Join us TOMORROW AT NOON at the Mothers for Lucy Sit-In outside CBSA offices (1010 St. Antoine West/corner Peel, métro Bonaventure).
→ See below for other ways you can support Lucy
→ See Let Lucy Stay campaign page for more background and materials: https://bit.ly/2GrwsZk
On Monday, the Canadian Border Services Agency (CBSA) refused Lucy's request to stop her deportation. On Tuesday, Lucy's lawyers turned to the Federal Court in a bid to stop the federal government from deporting her and to force Immigration Minister Hussen to respond to her application for permanent residence on humanitarian grounds (filed in September 2017). Despite CBSA opposition, Lucy's case will be heard in Federal Court tomorrow morning.
On Wednesday morning, the Immigrant Workers Centre filed a complaint to the Canadian Human Rights Commission on behalf of Lucy. The complaint is based on rights abuses and discrimination related to physical and psychological injuries on arrest and lack of proper medical treatment in CBSA custody. Because of the narrow terms of the complaint, however, other abuses by CBSA could not be included. If Lucy is deported on Friday, the complaint will not be heard. See press release here: https://bit.ly/2qqq5eN. See excerpts from complaint here: https://bit.ly/2HtXuxq.
Since April 3rd, the Mothers for Lucy campaign has been maintaining a constant presence in front of the offices of the Canada Border Services Agency offices in Montreal. Supporters have visited MP offices across the country, while Lights for Lucy vigils were held last night in Edmonton, Fredericton, Tatamagouche, Toronto, and six neighborhoods in Montreal, including her home neighbourhood of Villeray (see photos: https://www.facebook.com/events/770584653136432/). Over 12,000 people have signed a petition in support of Lucy, and public letters have been launched at UQAM, McGill and Concordia universities with signatures from hundreds of academics and students.
Despite the widespread and sustained community response, Ministers Hussen and Goodale have so far maintained their line, determined to deport our neighbour and friend, even though she has not even healed from the injuries inflicted on her by the CBSA.
Actions
COME TO THE MOTHERS' FOR LUCY SIT-IN (in Montreal)
Come join the Mothers' for Lucy Sit-in tomorrow: we are calling people especially to come at NOON for a rally! But if you can't come then, come anytime from 8:30am to 4pm at 1010 Rue St-Antoine W, Montréal, QC H3C 1B2, Canada
AUTONOMOUS ACTIONS
We are calling for autonomous actions in support and solidarity with Lucy in Montreal and across the continent. Share photos of your actions using the hashtags #LetLucyStay #LucyDroitRester and send them to us by facebook or by e-mail at solidaritesansfrontieres@gmail.com.
VISIT YOUR MP with a few friends and ask them to speak to the federal Immigration and Public Safety Ministers in support of Lucy. You can find a visit-your-MP kit (including letter to deliver, talking points, etc.) here: www.solidarityacrossborders.org/en/visit-your-mp-for-lucy
CALL THE MINISTERS:
If you haven't called yet, please do. If you have, please call again. It just may do something, so definitely it is worth a few minutes to try!
Immigration Minister Ahmed Hussen
dial 613-995-0777, 613-954-1064 and 416-656-2526
or write to Ahmed.Hussen@parl.gc.ca and minister@cic.gc.ca
Public Safety Minister Ralph Goodale
dial 613-947-1153, 306-585-2202 and 613-991-2924
and email ralph.goodale@parl.gc.ca and Hon.ralph.goodale@canada.ca
ASK THEM:
– to stay Lucy's deportation until her application for permanent residence on humanitarian grounds is decided;
– to investigate the actions of the CBSA agent who blackmailed Lucy and bring charges under IRPA 127 (a) and/or 129 (1) (a) as warranted;
– for an independent inquiry into the excessive force used by the 4 CBSA agents who arrested Lucy last Tuesday morning, injuring her arm.
SIGN THE PETITION
– Please sign this petition to let Lucy stay, and receive her permanent residency: https://bit.ly/2E3WY5X
More information & further updates: https://bit.ly/2IR5OYt
Solidarity Across Borders + Immigrant Workers Centre