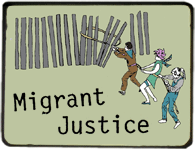 Undoing Borders Tour Infoshare
With Li Morales, Essex Lourdes & Molly Goldberg of the San Francico-based collective HAVOQ
Presented by: Ethnoculture, No One Is Illegal-Montreal, QPIRG Concordia, QPIRG McGill, Q-Team, Queer McGill & Solidarity Across Borders 
Saturday, September 24, 1-4pm
at QPIRG Concordia
1500 de Maisonneuve Ouest, suite 204
métro Guy-Concordia
wheelchair accessible
Presented in English and Spanish, with whisper translation into French
3 members of the San Francisco-based collective The Horizontal Alliance of Very Organized Queers (HAVOQ) are on the road, sharing stories and thoughts from their work at the intersections of queer and im/migrant experience.  They will be presenting on their newly released Undoing Borders document and joining us for a conversation asking:  What does queerness have to do with borders? Who profits off of laws & strategies that make more & more of us into criminals?  How can we talk about ourselves and our place, our "worth," in our communities without reinforcing heternormative and racist ideas about family, work, capitalism, and the state? Who's included in (and excluded from) the mainstream LGBT & Immigrant Rights movements? How can we think about borders as part of larger cycles of violence?PRESENTER BIOS:
Li Morales is a descendant of displaced peoples across two continents.  Li im/migrated with family from Mexicali to the state of California as a child and has continued to grapple with how humans meet our need to belong and matter across legacies of care, conflict and separation.  Li is currently a body worker-in-training and most recently worked as a Safety Advocate at Community United Against Violence.
Essex Lourdes is a native of Detroit who has frequently migrated between Michigan and California.  He explores the histories, struggles, and criminalization of marginalized identities, primarily Black/Queer/Femininity. He is currently exploring similar histories and shared experiences between the identities of African-American/citizen and immigrant/non-citizen.
Molly Goldberg grew up in northern Vermont, where the closest big city was in another country, and the border crossing used to be a stop sign.  She has been organizing withHAVOQ since 2007 and has been volunteering to provide direct humanitarian aid to people migrating north through the Arizona/ Sonora border region since 2006.  She writes about queer imaginations of family, community, and resistance
Undoing Borders is a collective writing project that began in 2007 when a group of us formed a contingent to the US/Mexico No Borders Camp in Calexico/Mexicali.  We go by a lot of names—some people know us as the San Francisco chapter of Pride at Work. Some people know us as HAVOQ—usually translated as the Horizontal Alliance of Very (or Vaguely or Voraciously) Organized Queers. Whatever you know us as, we are a collective of queer people organizing together in the San Francisco Bay Area. This document is a project of our Migrant Justice Working Group— ten to twenty of us who have been working in a variety of ways to resist the violence created by the border both here in the Bay and in the borderlands. Info: http://www.sfprideatwork.org
INFO: