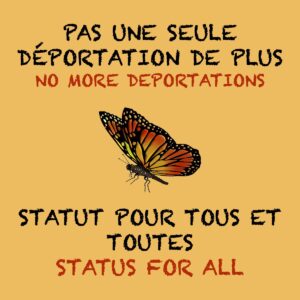 Undocumented Migrants in Canada
People become undocumented because of the failures of immigration policy. There is no access to
permanent residency for most low-wage migrants in Canada, and only 60% of refugee claimants are
accepted. Almost all undocumented immigrants in Canada were previously on a temporary
authorization (work, study, refugee claimant permit). They reached a point where they could not get
permanent residency and the federal government refused to renew their permits. They were faced with
an impossible choice: either return to a country where they may face war, discimination, climate
catastrophe or no economic opportunities and leave communities, families and relationships in Canada
OR stay without access to any rights and services and in daily fear of deportation. Those who stay
become undocumented immigrants.
Without permanent resident status, undocumented people are unable to assert rights at work or access
basic healthcare. They face discrimination and exploitation because of the well-founded fear of
deportation. Non-status people are part of communities. They are neighbours, classmates, parents,
spouses, children, coworkers and caretakers. Because of lack of permanent resident status,
undocumented people experience insecure housing, abuse at work, poverty and fear. The uncertainty
about the future, constant stress of making ends meet and risks of detention and deportation
negatively impacts their health. Living without status requires a tremendous amount of resilience. Continue reading.