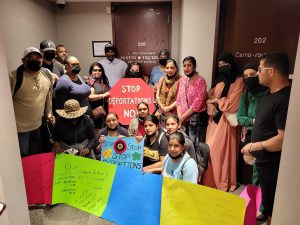 Montreal, 14 June 2023 – Undocumented migrants, accompanied by community organizations, visited the offices of Justin Trudeau today to deliver a giant "stop" sign. The action came in response to visits by CBSA officers to arrest undocumented community members in their homes as well as a surge in deportation letters received by refused refugees in Montreal. The delegation also unfurled a giant scroll covered in the names of undocumented community members who have been organizing together in Montreal to demand a full regularization programme.
"Over the last several weeks, we have witnessed CBSA arriving at the homes of undocumented migrants in Montreal with the intention of arresting and deporting them. We have heard of CBSA using entrapment practices to arrest other undocumented migrants. At the same time, there has been a marked increase in letters starting deportation proceedings for people who have been refused as refugees," said Dounia, the group's spokesperson, herself refused as a refugee, along with her husband and teenage daughter.
"Where is the regularization programme we have been promised? Many of us here today, along with dozens of other undocumented leaders from across Canada, met with Minister Fraser last November! He promised that deportations would stop when the programme was announced. We are here today to ask Prime Minister Trudeau to announce a full regularization programme that gives permanent residence to all undocumented migrants and refused refugees, without exclusion or discrimination, and without further delay. We are all essential," said Mariana.
"It is terrifying when CBSA arrives at your home to arrest you. They come in force and show your photo to neighbours. But we will not give in to fear and intimidation. We will not stop until deportations cease and we all receive permanent residence," said Carmel, one of the participants who was away from her home when CBSA came to arrest her.
"CBSA must stop terrorizing us. My family can't even live together. My husband is afraid to get emergency medical care. No one should have to go into hiding in fear that armed agents will arrive to arrest, imprison and deport them away from their child and wife. No one should be subject to the uncertainty, stress and fear of deportation proceedings," said Lynda, whose husband and father of her child is undocumented.
"We are always being asked to justify ourselves. But we are here to ask Prime Minister Trudeau: 'How do YOU justify denying us our rights as workers, as human beings, denying us healthcare, forcing us into exploitation and fear, separated from our families? That is why we call for a regularization programme that leaves no one out," declared Anita.
"Our message is clear: stop the deportations. Each of us named on this scroll wants to be regularized now. Like thousands of others. We do not deserve to be tracked down like animals. We deserve to be treated like human beings. The only solution is status for all now." said Jad, another participant in the action, who was forced to leave his home several days ago after neighbours threatened to denounce him to CBSA.
-30-
Contact: solidaritesansfrontieres@gmail.com
Source:
Solidarity Across Borders
www.solidarityacrossborders.org