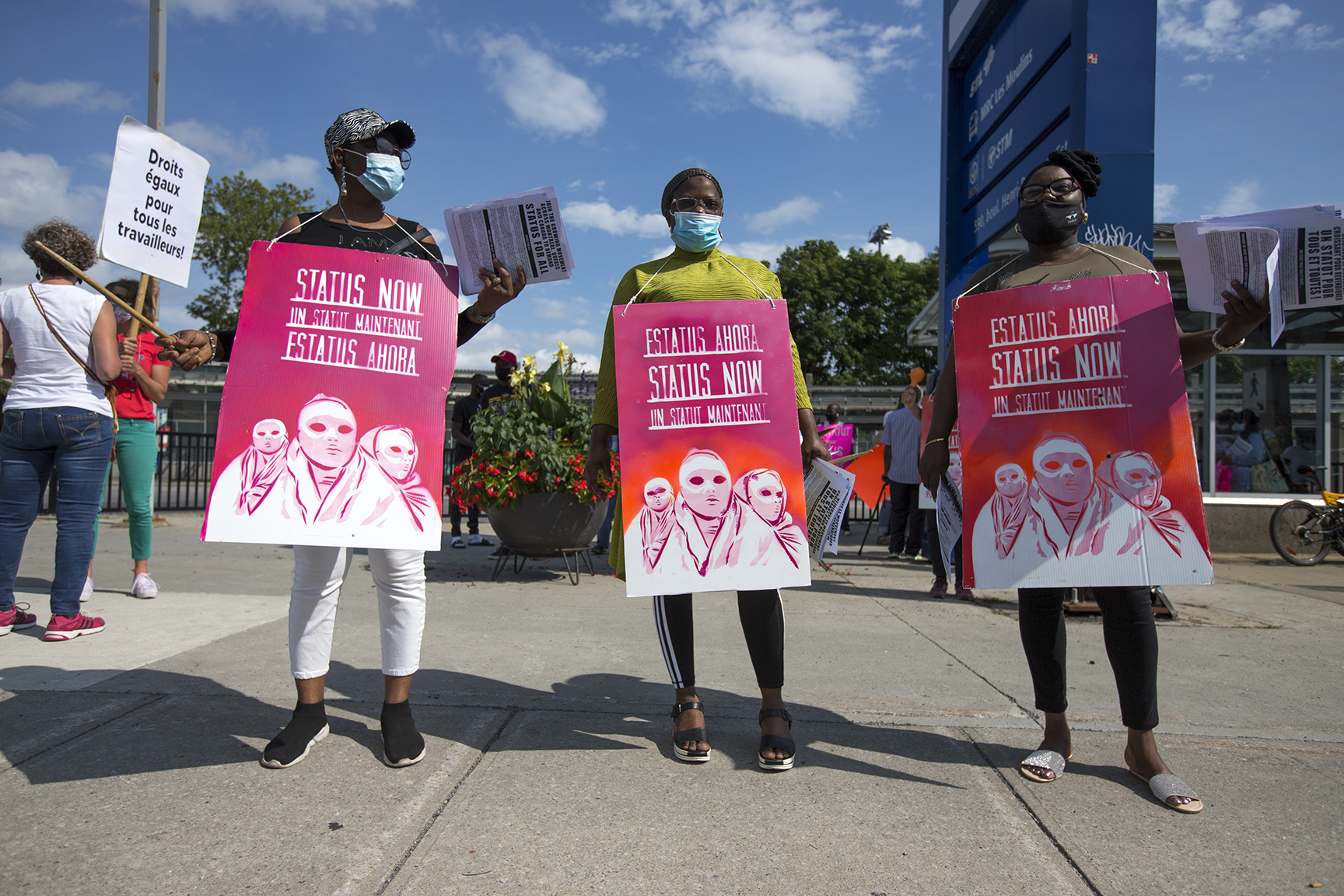 On August 23, hundreds of non-status migrants and their allies once again took to the streets across the city of Montreal and across the country to demand Status For All: the immediate regularization of all people living without permanent immigration status in Canada. Demonstrations took place in 11 Canadian cities, as part of a national day of action of the groups that make up the Migrant Rights Network. In Montreal, members of Solidarity Across Borders, the Immigrant Workers Centre and the Temporary Agency Workers Alliance rallied, chanted, banged pots and pans, and shared their stories — and their outrage — with fellow Montrealers in Côte-des-Neiges, Parc-Extension, Montréal-Nord and downtown.
As Hady Anne, organizer and member of Solidarity Across Borders said, "Aujourd'hui, notre objectif est de parler aux êtres humains, et de parler aux personnes, pas parler au gouvernement, pas parler aux gens qui veulent nous diviser. Pas parler aux gens qui veulent nous dire qu'il y a des êtres essentiel.le.s et d'autres qui ne sont pas essentiel.le.s. Parce que si nous tombons dans le piège qu'il y a des essentiel.le.s et des non-essentiel.le.s, nous tomberons dans le piège qu'il y a des femmes et des hommes, nous tomberons dans le piège qu'il y a des noir.e.s et des blanc.he.s, nous tomberons dans le piège qu'il y a des bon.ne.s et des mauvais.e.s. Mais non. Nous sommes tous essentiels, et nous devrons tous avoir un statut."
The movement for status continues to gain grassroots momentum across the country. Every day more undocumented migrants are raising their voices, pushing back against fear and joining their strength together in this fight for justice. We refuse to be divided, and we will not stop until we achieve our goal: comprehensive and unconditional regularization for everyone currently living without status.
For our friends and allies in Montreal, we will see you in the streets for our next mass demonstration on September 20. In the meantime there is much to do, and we need your help, with the distribution of fliers and posters, with translation, with media outreach, with mobilization in and among our diverse communities, with fundraising and much more. Please get in touch and join the movement.
À bientôt,
Solidarity Across Borders