W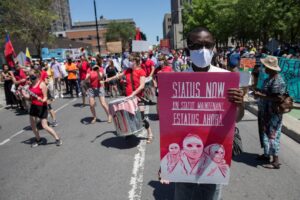 e're not stopping until there is a programme of regularization for EVERYONE!
Sunday, August 23rd at 2pm
Montréal-Nord: meet up at Henri Bourassa metro (in front of the IGA)
Parc Ex: meet up at Parc metro
Côte-des-neiges: meet up at Plamondon metro (Van Horne exit)
Downtown: meet up at Berri UQAM (Émilie Gamelin exit)
https://www.facebook.com/events/863669167502741
We just learned that the Federal Minister of Immigration Marco Mendicino has excluded most migrants from his regularization programmes. The programme only applies to some refugees (those who risked their lives, by providing care to patients during the COVID-19 confinement). Where are the other refugees who risked their lives, where are the undocumented migrants who worked for years in healthcare centres and homes for the elderly before, during and after the confinement? Where are the other undocumented migrants who worked ceaselessly in the fields, slaughterhouses, grocery stores and many other places to ensure that you lacked nothing while you were all confined? Maybe one day without the work by all these people would help to show how essential they all are? We also ask where are all the people who didn't work because they could not find work, are sick or elderly, because our society is ableist, because they refuse to be exploited? Finally, we ask, why migrants have to risk their lives to ensure your quality of life or to be accepted in this society?
Our struggle continues until we achieve victory: a comprehensive programme of regularization. These last weeks we have organized many actions: mass march on July 4th, speak out at Immigration Offices on July 26th to break the fear, rally at Justin Trudeau's office on August 8th to point out we are all essential.
As part of a cross-Canada day of action for Status for All, festive marches will take place in four Montreal neighbourhoods on August 23rd to make sure people in these neighbourhoods are aware of the growing movement here in Montreal and across Canada demanding status for all migrants – young or old, working or not, criminalized or not, undocumented, refugees, farmworkers, domestice workers, other temporary foreign workers – and to invite everyone to join us.
We are more determined than ever not to let up and to fight to win, status for all.
Organized by Solidarity Across Borders and Immigrant Workers Centre