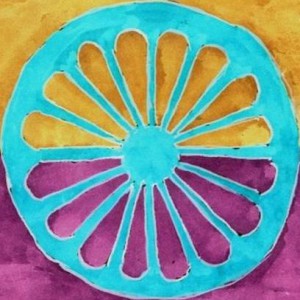 A Concert in support of the Lakatos Family's Fight against Deportation
Monday, June 20th
doors at 7pm
Patro Vys, 356 Mont-Royal East
Suggested entry: between $10 and $20 (no one will be refused!)
Join us to support the Lakatos family and learn more about the struggle of Roma in Europe and Canada, all the while enjoying the captivating music of Te Merav (with Kristin Molnar, Jean-Denis Levasseur and Laszlo Levasseur-Molnar), Sergiu Popa and Brigitte Dajczer (Briga).
Proceeds will go towards supporting the struggle of the Lakatos family and other Roma families fighting against deportations.
Musicians
TE MERAV. Born in Paris, Kristin Molnár was first taught violin by her father at the age of 4. She graduated from the Franz Liszt Academy in Budapest, got a first prize from the Conservatoire de Musique de Québec and a Master's in interpretation from l'Université Laval de Québec. She also had many master classes with Pierre Amoyal and Yehudi Menuhin. Kristin Molnár has appeared in many tv shows, on radio and in movies. She has also participated in many festivals in Quebec. www.kristinmolnar.com
SERGIU POPA. Born in 1981, in Chisinau, Moldova, Seriu completed his studies at Stefan Neaga music college as well as two years of studies at the Conservatory of Moldova before emigrating to Canada in 2002. From a young age, he simultaneously studied traditional folk and Roma styles. Over many years of playing alongside his father at weddings, he became familiar with Jewish, Turkish, Russian, Serbian and Bulgarian styles. He co-founded the Sergiu Popa Ensemble with his wife (violinist Jessica Gal). They have performed at numerous festivals and concert series in Quebec, and were selected to receive the 2007 Radio-Canada Étoiles Galaxie award. Sergiu has collaborated on a number of projects with other artists here in Montreal. www.sergiupopa.com
BRIGITTE DAJCZER. Briga's music is a reflection of her fragmented identity: a hybrid of songs written in French and English, all accompanied by her fervent violin firmly rooted in eastern European and Romani folk sounds learned from her father. Recently awarded the 2013 Galaxie Rising Star Award, Briga has released her 3rd album "Wake" (2014), a concept album that explores her father's mysterious Polish/Jewish roots and is delivered with a Turbo Folk edge, wrapped up in heavy Balkan & Morrocan grooves, and polished with lamenting judeo-arabic strings. https://brigamusic.com/about/
Background
For centuries, the Roma people have been victims of violence, persecution and discrimination. In contemporary Europe, Neo-Nazi groups openly target Roma people. To escape the oppression, many Roma have come to seek refuge in Canada. However, the Canadian government has refused to recognize the very real persecution of the Roma people in Europe. Under the previous government, Roma were depicted as "bogus refugees", undeserving of protection; and measures aiming to restrict the acceptance of Roma claimants were introduced. A recent study examining the cases of 10 000 Hungarian refugee claimants found that racist stereotypes of Roma people had become "enshrined" in Canada's refugee determination process.
Such policies had a direct impact on the Lakatos family, who sought asylum in Canada in 2011 to escape the racism and discrimination they experienced as ethnic Roma in Hungary. After many years of struggle to stay in Canada – which saw the deportation of the father and son – Katalin and Gilda Lakatos were ordered deported on 12 May 2016. The two women went public with their story and got the support of numerous individuals and organizations who called on the government to stop their deportation. On the eve of their deportation, they were given a two-month reprieve: a temporary residence permit. This will expire on 16 July. Their partial victory won't be complete until the family receives a positive response on their humanitarian application. This must arrive before the permit expires so that the family can be reunited in Canada.
Media coverage:
www.solidarityacrossborders.org/en/media-coverage-lakatos
Background and what you can do:
www.solidarityacrossborders.org/en/call-for-solidarity-roma-family-facing-deportation-on-thursday
Not one more deportation! End anti-Roma racism!
Organised by
Romanipe
www.romanipe.wordpress.com
Solidarity Across Borders
www.solidaryacrossborders.org