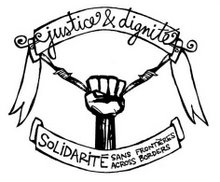 PRESS RELEASE – For Immediate Release

The Awan family supported by community groups call on Immigration Minister to let elderly grandmother stay and to bring back grandfather now in hiding in Pakistan
Contact:
Cynthia Beaudry : 438-878-4354 ; Rosalind Wong : 438-933-7654
email : solidaritesansfrontieres@gmail.com
twitter : @SolidariteMTL
web : www.solidarityacrossborders.org
Montreal, July 2, 2013 – Two days after Canada Day, Solidarity Across Borders will hold a press conference in support of the Awan family on Wednesday at 10 AM at the Shiane Haidery Islamic Association Center (2174 Belgrave) who is calling on federal Immigration minister Jason Kenney to intervene and stop the deportation of their grandmother, Mrs. Khurshid Begum Awan, to Pakistan. The family is also asking the minister to allow their grandfather to return to them in Canada after being deported in April 2013.
Joining the family will be their lawyer Stewart Istvanffy, Dr. Amir Khadir of Québec solidaire, and presidents of the Shiane Haidery Islamic Association, the Badul Sawaej Imambarjah, and the Action Committee against Racial Profiling of Pakistanis, as well as Solidarity Across Borders.
On June 27th, Mrs. Awan's request for a stay of removal was refused by Federal Court Justice Simon Noël; she now faces imminent deportation to a country where there is a serious risk of violence at the hands of members of an extremist anti-Shia group, Sipah E. Sahaba. Her husband, Mr. Mohammad Khalil Awan, deported in April, now lives in hiding in Pakistan and was already the victim of a gun attack, but the Federal Court refused to look at the police report last week.
Further to the risks of persecution and violence, Mrs. Awan has a chronic heart condition, and received letters from three doctors and a cardiologist attesting that a long flight could put her life in danger.
« Canada continues to tear families apart and to ignore the danger in which they systematically send human beings – this is no legacy to be proud of » decries Cynthia Beaudry, member of Solidarity Across Borders.
At age 16, the couple's daughter, Tahira Malik, was forced to leave behind her parents and infant son when she left a sexually and physically violent marriage to build a life in Canada in 2000. The family was finally reunited in 2011, and Tahira works tirelessly as a single mother in a factory and in a restaurant to support her son and mother. « This coureagous woman has the right to have her parents grow old in safety by her side. After spending 11 years alone, she cannot suffer from another seperation and she needs her family. We demand that the government grant her justice and respect her dignity. » says Beaudry.
« Canada must recognize the reality in Pakistan, » adds Istvanffy.  « Right now, religious minorities, and particularly the Shia, are targets of unprecedented levels of violence from extremist and criminal gangs. »
– 30 –