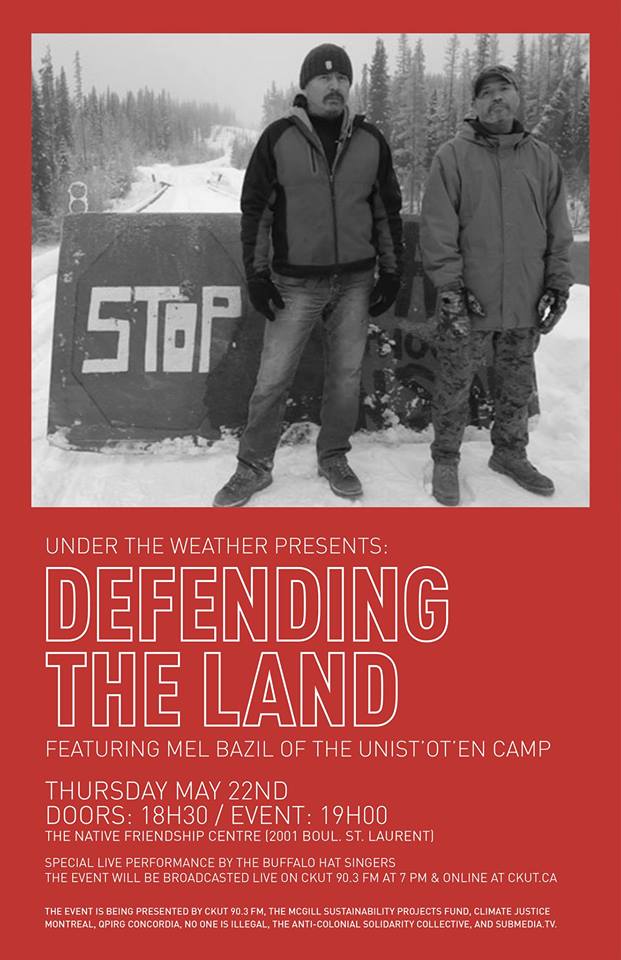 (This event is endorsed by Solidarity Across Borders)
CKUT, Climate Justice Montreal, QPIRG Concordia, No One is Illegal, Solidarity Across Borders, Submedia.tv, The Anti-Colonial Solidarity Collective, and the McGill Sustainability Projects Fund present…
The 7th Edition of Under The Weather: Climate Change Research and Justice
Defending the Land: Indigenous Resistance to Extraction
featuring MEL BAZIL,
Indigenous Gitxsan and Wet'suwet'en organizer, sovereigntist, and anarchist of the Unist'ot'en Action Camp http://unistotencamp.wordpress.com/
with Clifton Nicholas. Clifton Arihwakehte Nicholas is a Kanienkehaka (Mohawk) from Kanehsatake. Clifton is active in his community as both an activist and as a defender of his people. Clifton was one of the people who defended the community of Kanehsatake in 1990, he has been a staunch advocate of Indigenous resistance throughout Canada and the Americas.
with a special performance by the BUFFALO HAT SINGERS
Thursday, May 22nd
At the Native Friendship Centre of Montreal, 2001 Boul. St. Laurent
Doors open at 6:30, Event begins at 7:00 PM
Admission is FREE, but we will be collecting donations in support of the Unist'ot'en Camp!
The venue is wheelchair accessible. Whisper translation towards French will be provided.
This event will be broadcasted LIVE on CKUT's airwaves at 90.3 FM or online at www.ckut.ca
For more information on the project, visit http://undertheweather.ckut.ca/
This event is a part of Montreal's Festival of Anarchy http://www.anarchistbookfair.ca/