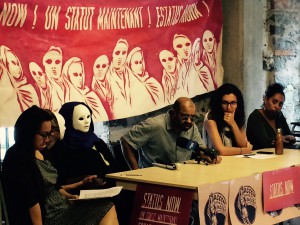 Montreal, 24 May 2017 — For more than a year, Marcia*, a blind undocumented woman, has been trying to access essential rehabilitation services offered by the Montreal Association for the Blind (MAB-Mackay). She was repeatedly denied access because of her immigration status, despite the City of Montreal's adoption of a Sanctuary City policy in February 2017. Montreal community organizations are urging Mayor Denis Coderre to find a solution and urging MAB-Mackay to adopt a policy of access for undocumented Montreal residents.
"I've lived and worked in Montreal for over 30 years, taking care of people's children and homes. I had no access to healthcare because of my status and low wages. I got sicker and sicker until I lost my eyesight in late 2015. Now I am left with nothing. I should be able to access services like MAB MacKay's and to live with dignity," says Marcia, an active member of the Non-Status Women's Collective of Montreal.
Abdelkader (Kader) Belaouni, a MAB MacKay service user who works at the Immigrant Workers Centre, explains, "MAB McKay's rehabilitation services have been crucial to me, as a blind person, in gaining and maintaining independence. Their services helped me learn essential skills like cooking for myself, computer skills, and using public transportation. I can survive day to day, visit friends and work because of this."
MAB MacKay is the designated provider of rehabilitation services for anglophone populations living in Montreal. After she lost her sight, Marcia applied to MAB MacKay three times, with the help of her ophthalmologist and local CLSC. In October of 2016, she was finally told that she would receive services; only to be refused weeks later, once again because of her immigration status. After the passing of the Sanctuary City motion, sixty healthcare workers and community organizations co-signed a letter to MAB MacKay insisting Marcia receive services. In April of 2017, MAB MacKay again refused. A petition is now circulating publicly and has already gained the support of hundreds of organizations and individuals.
On Friday, May 19th, MAB MacKay contacted Marcia, saying they would write her in the upcoming week about what services their organization might be able to offer. The organization did not commit to providing Marcia access based on need rather than immigration status. "I want to be treated just like everyone else. People who can, are supposed to help people. They shouldn't have turned me down before. I've been asking for a year. I hope that my speaking out will help open doors for others," says Marcia.
"There are tens of thousands of undocumented migrants in Montreal who, similarly to Marcia, are unable to access essential healthcare due to their immigration status. Marcia's situation is powerful evidence of how Coderre's Sanctuary City policy has failed to address this crisis in healthcare. Everyone should have access to healthcare," says Dr. Nazila Bettache, physician and community organizer.
"Marcia's experience is similar to many other migrant women whose labour is taken advantage of as nannies, caregivers to the elderly and housekeepers. Working in extremely exploitative and precarious conditions, they are unable to access healthcare, education for themselves and their children, adequate housing … They live in constant fear," adds Viviana Medina, a community organizer with the Immigrant Workers Centre and a member of the Women of Diverse Origins.
Hundreds of Sanctuary Cities already exist in the United States, and more recently Sanctuary City policies have been passed in Toronto, Hamilton and Vancouver. Montreal community organizations like Solidarity Across Borders have criticized Coderre's motion as limited and symbolic.
"If undocumented communities continue to be unable to access basic services and if the Montreal police continue to collaborate with the Canadian Border Services Agency, how can Coderre possibly call Montreal a Sanctuary City? We demand that Coderre take immediate action in Marcia's case and implement measures that will actually change the lives of non status people living in Montreal," says Rosalind Wong, a community organizer with Solidarity Across Borders.
—–