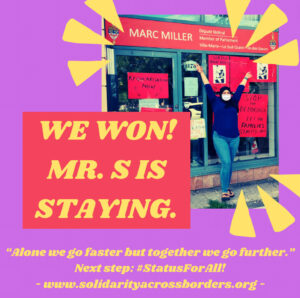 Just six hours before he was due to be deported, Mr. S. received news that Immigration Minister Miller had issued a temporary residence permit (TRP) which would allow him to remain in Canada until his spousal sponsorship was accepted. This came after both the Federal Court and the United Nations refused to stop his deportation. It was the relentless public campaign calling on the immigration minister to do the right thing which paid off.
The announcement was first made directly to Fatima, who spent the day waiting with supporters in Mr. Miller's Montreal riding office after a public rally. Mr. S. should finally be freed from the migrant prison in Laval next week.
Solidarity Across Borders and the South Asian Diaspora Action Collective (SADAC), who supported the couple in their struggle, congratulate Mr. S. and salute his courage and that of Fatima, who stood up for herself and her husband. Together, we organized to challenge the injustice of deportation and detention. Although the violence and trauma inflicted on the couple by Canada's immigration system may never be fully erased, we hope that the community support and solidarity they received over the last weeks will help them heal. We encourage others facing exclusion and imprisonment as migrants to join the fight for migrant justice.
Photos of actions at Minister Miller's Montreal office in support of Mr. S.:
Media Coverage:
On Sunday, 17 September, Solidarity Across Borders will join other members of the Migrant Rights Network across Canada to demand Status for All, and specifically an immediate implementation of the long-awaited regularization programme for undocumented migrants. Please join us at 2pm in front of Marc Miller's office at 3175 Saint-Jacques (adjacent to Lionel Groulx metro).