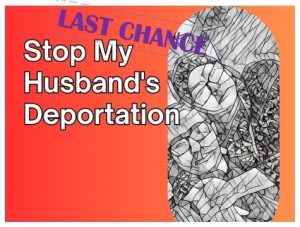 CALL TO ACTION: "STOP MY HUSBAND'S DEPORTATION ON THURSDAY"

Share this call by email and social media (facebook here).
FAMILIES SHOULD NOT BE SEPARATED!
STATUS FOR ALL!
We need your help to stop the deportation of Mr. S., which is set for tomorrow, August 31, 2023, at 10pm. Mr. S. is being deported by the Canadian Border Security Agency (CBSA). He is currently in the Laval Detention Centre. His wife filed a sponsorship application for him more than a year ago
1) Emergency rally tomorrow, Thursday, August 31st, at 10am at the riding office of Immigration Minister Marc Miller, 3175 Rue Saint-Jacques, Montréal (Lionel Groulx metro).
Please bring:
a sign asking Minister Miller to stop Mr. S.'s deportation and regularize undocumented migrants;

If applicable, members of your family to signify that families should not be separated.
2) Please write to the new immigration minister Marc Miller to ask him to stop the deportation: 
Send your letters via email to Marc.Miller@parl.gc.ca and Marc.Miller.c1a@parl.gc.ca. Copy your letters to the Prime Minister at justin.trudeau@parl.gc.ca and to us at solidaritesansfrontieres@gmail.com. 
In your letters, please:
Include your name and address;

Explain that his wife submitted a sponsorship application for him over a year ago and deporting him would mean separating this family

ask Minister Miller to intervene to stop the deportation of Mr. S., using any of the tools at his discretion as the Minister of Immigration;

ask him to move quickly to regularise all undocumented migrants in Canada.
Background
For Fatima, her husband means everything. She is a survivor of gender violence who has four adult children from a prior marriage, one of whom has severe health problems and is dependent on her. Since her husband came into her life, he has been her support, and has helped her in so many ways. She does not want to be separated from him.
After Mr. S.'s refugee application as a member of a persecuted religious minority was rejected, Fatima put in a spousal sponsorship application for him over a year ago. Despite the fact that the sponsorship application had not yet been decided, her beloved husband was ordered to leave the country as a refused refugee.
He was faced with the agonizing choice of leaving his wife and his home and returning to a country where he is at risk – or of staying without authorization until the sponsorship was accepted. Like many others who are put into this horrible dilemma, he stayed. In this way, the Canadian immigration system produces thousands of undocumented migrants each year.
About a week after he was supposed to be deported, he got a letter from the CBSA telling him that he was now eligible for a pre-removal risk assessment (PRRA), and he could come to their offices to get the forms. To the couple it was a relief and an opportunity for him to regularize his status, so they went to the meeting. To Fatima's great shock and grief, the CBSA arrested him at the meeting. He has remained in detention ever since, over two months.
Last week, another blow: his PRRA was rejected. The acceptance rate for this kind of application is less than 5%. He was immediately given a new deportation date: 31 August 2023.
Fatima says that these last few months with immigration have been the most stressful in her life. The family simply wants to live their lives together: why is that too much to ask?
Photos of first emergency rally
Regularisation
In December 2021, Prime Minister Trudeau asked then immigration minister Sean Fraser to regularise undocumented migrants in Canada. This promise remained unfulfilled during Minister Fraser's mandate, even though Immigration Canada began to develop a regularization programme. In spring 2023, the United Nations recognized the problem of undocumented migrants as a human rights crisis, calling on states worldwide to create regularisation programmes.
If the government had already acted to regularize undocumented migrants, my husband and I – and many others in the detention centre and their families – would not be in this situation.