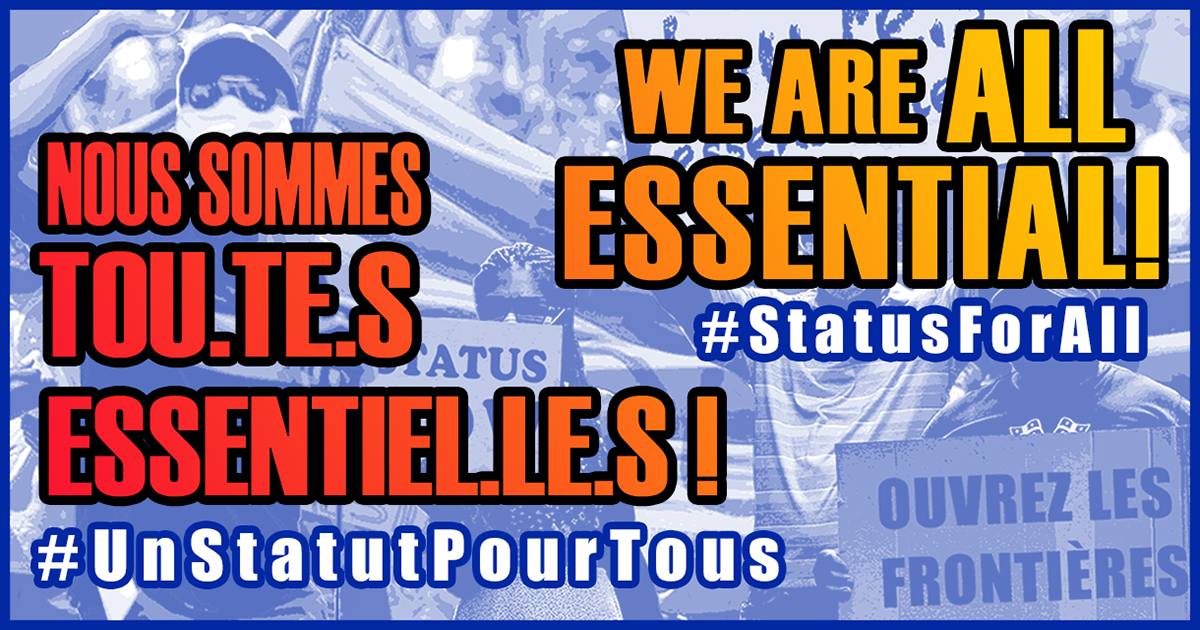 Press Release
Migrants Excluded from Ottawa-Quebec Regularization Programme: "No merit in partial recognition. Status for all is the only just solution."
Montreal, 14 August 2020 — Migrants with precarious immigration status were outraged and devastated today by Immigration Minister Marco Mendicino's announcement that they would be excluded from his regularization programme.
"Your regularization programme disappoints us, Mr. Mendocino and Ms Girault. We had hope in our hearts that everyone would be recognized. Not only because of our work and the risks we also took to maintain your quality of life. But because we are also full human beings with rights. And we shouldn't be forced to put ourselves in danger to be recognized as such. We are also essential." explains Samira, a refused refugee who is currently undocumented.
The Friday announcement arrives after months of migrant-led protest across the country calling for a comprehensive regularization programme in reaction to the deepening of societal inequities during the COVID-19 crisis.
"We believe the pandemic opens a new opportunity to put in place a comprehensive programme of regularization for everyone, whatever the colour of their skin, religion, sex, age, ability or criminal record, with no exception, and fully respecting family reunification," said Moira Johnson, member of Solidarity Across Borders.
"Status for all is primarily a matter of shared humanity, we demand it in the name of the dignity and equality of all human beings. Everyone must be and deserves to recover themselves, after all that they have endured and suffered, and to have the chance to move forward with their lives like anyone else," said Mohamed, an asylum seeker.
The regularization programme unveiled today by the federal Liberal party is based on very narrow criteria of admissibility. Of the hundreds of thousands of non-status migrants currently in Canada, less than one thousand will be affected, and many of these would have been accepted soon or are in any case protected from deportation by a moratorium. Undocumented residents, agricultural workers, caregivers, international students, as well as refugees working in the CHSLDs in other jobs like janitorial services, or in other sectors, are all excluded from the programme.
"I work as a security guard in food production. My job is to make sure people respect the government's rules of social distancing, hand-washing, etc. I worked all throughout the crisis, often more than 40 hours per week. I am exposed to many people and put myself at risk. I took public transport to work every day because I had no choice. While citizens and permanent residents were able to stay at home and receive emergency relief, I took risks to help feed everyone safely. But the government has excluded us from the regularisation programme." states Karim, a refused asylum seeker seeking citizenship.
Whether working on the frontlines in underpaid and unsafe jobs or facing eviction from their homes due to their exclusion from the Liberal party's emergency financial assistance during the pandemic, the impacts of the crisis have been magnified for Canada's migrant communities and exposed the consequences of structural racism in the country.
"Why discriminate against migrants? In any case, here we are and here we will stay: keeping us in a situation of limbo without any rights is not only a shame for Canada, it is absurd. There will be no justice and inequality in Canada without giving us permanent residence. If, as Mr. Trudeau never ceases to proclaim from the rooftops, Canadians are welcoming and care about equality and justice, regularization is the only solution," concluded Ibrahima, an undocumented Montrealer.
-30-
Source:
Solidarity Across Borders
www.solidarityacrossborders.org
Background:
Principles for a regularization program in Canada
Open letter by Undocumented Community Members in Montreal during COVID confinement
History of regularization programs in Canada
Who Guards the Guardian Angels Upholding our Pandemic Response (Ricochet)
Nous les exclus sommes tout aussi essentiels (La Presse)