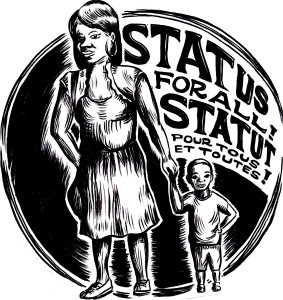 Communiqué –
For Immediate Release
Migrant Groups Call on All Quebec Provincial Parties to Take a Stand Against Racism by Supporting Regularization of all 500,000 Undocumented Migrants
Montreal, September 13 – On the eve of a major march in Montreal and all major cities across Canada, Solidarity Across Borders calls on all Quebec provincial parties to support the swelling movement calling for the regularization of all 500,000 undocumented migrants.
"As the federal government moves forward on plans for a regularization programme to grant permanent resident status to undocumented migrants, civil society, labour, and community groups are uniting across Quebec and the rest of Canada to say now is the time to include everyone; we can't leave anyone behind! Quebec political parties need to catch up!" said Solidarity Across Borders spokesperson Hady Anne.
While Premier François Legault is making headlines for his racist fear-mongering, all parties in the current provincial election campaign seem at home with the structural racism inherent in a system, established by colonial powers, that today excludes 1.7 million people in the country from basic legal rights, with devastating impacts on their lives and society as a whole.
Sunday, Gabriel Nadeau-Dubois announced that Québec Solidaire, if elected, would allow migrants to come to the province, as long as they go to the regions and the number doesn't exceed the "the [60k-80k] range within which we are comfortable." Legault continued in the same vein on the weekend, saying that immigration was a threat to national cohesion. "It's like math," he claimed.
"On some level," said Anne, "all the provincial parties see migrants as a threat. We are not numbers for an exercise in population arithmetic, to be debated in the abstract, sent to the regions, or brought in to fix the labour shortage. We are family members, neighbours, colleagues, friends; we are human beings with dignity who deserve respect as equals."
In opposition to identitarian xenophobia across Quebec, Solidarity Across Borders is supporting the popular movement against systemic racism. "Our society here in Quebec is facing a choice! No one should have to live in fear of arrest and deportation, be denied healthcare, face extreme exploitation or work, or be separated from their families because of where they were born. But the Quebec and Canadian immigration system has put hundreds of thousands of migrants in this situation."
"If Quebec provincial parties are really concerned about us," concluded Anne, "then they should start by pressuring the Trudeau government to adopt a comprehensive, fully inclusive regularization program."
The scope of the current federal plans for regularization is still unannounced. Migrants and supporters who will be marching across the country on Sunday are calling for a regularization program that ensures permanent residency to all 500,000 undocumented residents, as well as full and permanent immigration status to all 1.2 million migrant workers, students, refugees and families in the country.
Migrants and allies like the Ligue des droits et Libertés and Doctors of the World will hold a bilingual, pan-Canadian press briefing online tomorrow, Wednesday September 14, at 12PM EST.
A demonstration and street dance party will be taking place in Montreal on Sunday, September 18th, at 2PM, at Place du Canada (corner of René-Lévesque and Peel).
-30-