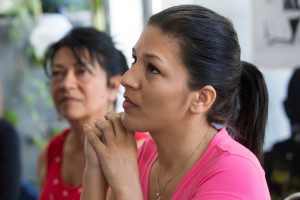 facebook event
#noneistoomany #lakatos
The temporary stay of deportation 17-year old Gilda Lakatos and her mother Katalin won in May expires on Saturday and the Hungarian Roma family has not yet heard back on their application for permanent residence on humanitarian grounds.
We need your support
1) Call in to support the Lakatos family
–> Please call and/or email the Minister of Immigration of Canada, John McCallum and ask him to accept the Lakatos family's application for permanent residence on humanitarian grounds, and to do so before their Temporary Residence Permit expires on Saturday. You can cite their file number, UCI 6461-5666
Tel. 613-954-1064
Email.  john.mccallum@parl.gc.ca
–> Please also call and/or email Minister of Immigration of Quebec, Kathleen Weil and ask her to intervene with her federal colleague in support of the Lakatos family.
Tel. 514-873-9940
Email. cabinet@micc.gouv.qc.ca
2) Support the family financially
The Temporary Residence Permit (TRP) that the family got in May does not include permission to work. The family has applied for a work permit (with an administrative fee, of course) but has not yet gotten a response (it can take up to six months sometimes). That means that, like many non status immigrants in Canada, they cannot legally work. They currently have no income at all. They are currently relying on the generosity of friends and community members to cover all the immigration fees and daily living expenses; your contribution would be very welcome.
To donate: www.solidarityacrossborders.org/en/donate
**Don't forget to put "LAKATOS" in the memo or subject line!
Background
The Hungarian Roma family has lived in Canada for five years. When their refugee application was refused in the context of systematic bias against Roma refugees(1), the Lakatos family submitted an application for permanent residence on humanitarian grounds in September 2015. However, before they received a response, the father and brother were deported in March 2016.
Roma are among the most discriminated and vulnerable minorities in Europe. In Hungary, the situation is particularly difficult: segregation, ghettoisation, violence and anti-Rom rhetoric were part of daily life for the family. Research carried out in 2016(2) revealed that Roma families deported to Hungary from Canada are experiencing a double exclusion. They are not only discriminated against as Roma, but also for having exposed the racism in Hungary by trying to immigrate to Canada.
More on the situation in Hungary
—–
(1) No Refuge: Hungarian Romani Refugee Claimants in Canada (2015).
(2) CBC, Deported Roma have little chance of return, Feb 08, 2016