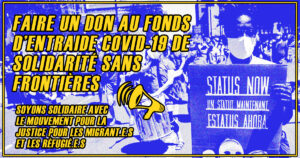 Dear community, we're reaching out once again to ask for your support.
It will soon be six months since the WHO declared COVID-19 a global pandemic. In that time we've seen the fault lines of injustice and inequality in our society laid bare, and with them, long-standing social tensions arrive at a breaking point.
For over a decade, members of Solidarity Across Borders (SAB) have worked to counter the violence of Canada's immigration system– an apartheid structure that divides people on this land between those who are granted basic human rights and those who are not. Pushing against and beyond the many barriers of this system, we have levied our vision of a community based on care and mutual aid. With and without status, members of SAB support and fight alongside each other to demand justice for migrants and refugees, and through this global crisis, we continue to work towards building a more equitable world, where all of us can live with dignity and without fear.
The coronavirus pandemic has only made the relevance of this work more urgent and clear. After being excluded from government emergency support and finding themselves without work facing the possibility of eviction, thousands of non-status people across the country have come together to say enough is enough, and to demand immediate regularization for all. In Montreal on July 4, hundreds of non-status people and their allies took to the streets to demand Status For All. On July 26, we rallied outside the Montréal offices of Canada Border Services Agency to break the silence, overcome fear and insist that we are all essential. On August 8th, we will mobilize once again, taking our message directly to the office of Prime Minister Justin Trudeau with an artistic action and gathering. And this is still only part of what we do.
Mutual aid and support for members of our community are a vital part of our organizing work. Since March we have redistributed over $160,000 to non-status individuals and families, who are in need of emergency financial support, but have been denied access to government relief programs because of their status. Despite this incredible show of solidarity, we continue to find ourselves at risk of running out of resources to support the non-status members of our community. In the face of the hateful indifference of government officials, and with no meaningful end to the crisis in sight, we need to support our more vulnerable friends, neighbours and colleagues in every way we can– and to do this we need your continued help.
Donations to the Solidarity Across Borders mutual aid fund go directly to helping members of our network meet their material needs, increasing our capacity to struggle collectively for justice, and allowing those who are most affected by the violence of Canada's immigration system to lead this struggle. If you're able to donate, please do. The most effective and sustainable way to do this is to become a monthly donor, but any amount you are able to contribute will make a difference, and will be deeply appreciated.
If you aren't able to contribute financially there are many ways to join in this effort and support the movement – please get in touch! Stay safe everyone. Many thanks once again for your solidarity, and we'll see you on August 8th.