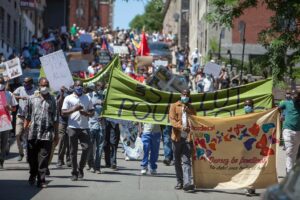 On Saturday, July 4th, dozens of community organizations and hundreds of individuals took to the streets of Montreal to emphatically call for the immediate regularization of all undocumented migrants living in Canada. We marched together and united our voices to insist that We Are All Essential and to demand Status For All!
For over a decade Solidarity Across Borders has organized an annual Status For All march, but this year was different for many reasons. The coronavirus pandemic has made the fundamental injustices of the Canadian Immigration system brutally and unavoidably clear, yet the crisis has simultaneously presented us with possibilities for systemic change many of us have never seen before in our lifetimes. Non-status and migrant community members see a very specific political opening at this moment, and an inclusive, comprehensive regularization program for all is within our grasp if we push hard enough for it. As one of our members, Farid, put it, "C'est maintenant ou jamais… it's better to be tired for a couple months fighting for this, than continue to be tired for years."
On July 4th, at Place Émilie Gamelin, before a festive and colourful march through central arteries of downtown Montreal, we heard testimony from members of the many movements engaged in this common struggle – non-status individuals, members of the Immigrant Workers Centre, Temporary Agency Workers Association (TAWA), Pinay, Le Québec c'est nous aussi, Guineans for Status For All, as well as blocs organized by Artists For Longterm Care, RAMQ For All, and Housing For All. All stressed the urgency of an immediate, inclusive and comprehensive regularization program, as a response to the coronavirus pandemic and redress for centuries of discriminatory and racist government policy. Our community is mobilized.
The federal government has gestured towards acknowledging the contribution of *some* non-status workers to the pandemic relief effort, suggesting a narrow program of regularization for refugees who have worked in CHSLDs during the crisis. While we welcome the regularization of any migrant without status, we roundly reject the liberal party's rhetoric for what it is: the same divide and rule tactics that the colonial state has always used to quell resistance, a strategic attempt to maintain its hold on political power.
The July 4th march was only the beginning of this urgent campaign. We'll be out fighting for status again on Sunday July 26th, from 2pm to 4pm, outside Immigration Canada offices. We will unite to break the fear these offices represent to so many migrant members of our community . On Saturday, August 8th at 11am, we'll be at it again, this time at Justin Trudeau's riding office (1100 Cremazie est). As Lucky, another Status For All organizer, says, "There's a door with a lock and we don't know which key will open it, so we have to try every single key until it opens."
Undocumented migrants, refugees, temporary foreign workers, farmworkers, healthcare workers and caregivers, sex workers, international students: together we can win an inclusive regularization programme, but this movement needs support from all of us. Please join us on Sunday. The only way to respond to the compounding crises of this moment is with an immediate and comprehensive regularization program, without exceptions. We will not allow anyone to be left behind.
See you for our next action: Sunday, July 26th – United to Break the Fear, Status for All.