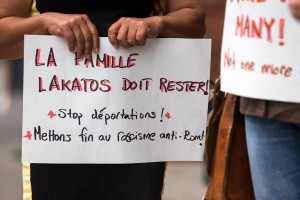 facebook event
#noneistoomany
#lakatos
UPDATE (5 August 2016): Katalin and Gilda have once again received a last minute reprieve, escaping deportation for a third time. On Thursday last week, the family was told by CBSA that they would need to leave Canada on 11 August. Yesterday (August 4th), they were told once again that they could stay – but only on a temporary basis. They are still awaiting a response on their application for permanent residence on humanitarian grounds, filed in September 2015.
——
Gilda and Katalin Lakatos, two Hungarian Roma women who have been fighting their deportation since their refugee claim was refused more than a year ago were given a new deportation date, 11 August, by the Canadian Border Services Agency (CBSA) on Thursday. The family still hasn't received a long-awaited decision on their application for permanent residence on humanitarian grounds.
Gilda and Katalin's  deportation was suspended on May 11th when the Minister of Immigration recognized that they were in "exceptional circumstances" and granted them a rare Temporary Residence Permit (TRP) until 16 July. The family and supporters believed that the short reprieve was granted to allow the government time to study their humanitarian file – but no decision arrived before the permit expired. The family applied for a renewal of their TRP and can legally remain in Canada until they receive a response on their application for renewal.
++++
Call or email the MP in your riding from Monday to Thursday morning and ask them to contact Minister of Immigration John McCallum in support of Lakatos family.
* Find the MP for your postal code here
* Model letter you can adapt here
++++
Chronology of Family's Struggle
Not one more deportation! End Discrimination against Roma Refugees! All refugees welcome!
—
Solidarity Across Borders
www.solidarityacrossborders.org
Romanipe
https://romanipe.wordpress.com